More votes than ever cast in Ripley County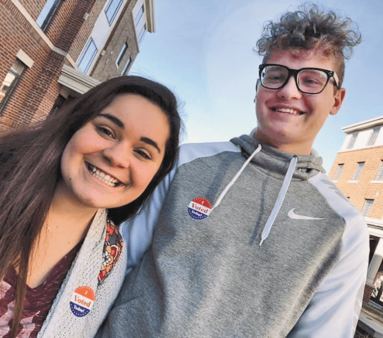 SUBMITTED PHOTO
Ripley County experienced the largest number of walk-ins and paper ballots cast in the history of a Presidential Election on Tuesday, November 3. Those numbers translated into 3,695 walk-ins and 1,715 paper ballots, according to Diane Macek, election deputy. She noted in 2016 they had around 1200 paper ballots and that was a lot.

About Election Day itself, Ripley County Clerk Ginger Bradford noted, "It's been the busiest I've ever seen it, we've gone non-stop since 5 a.m. this morning." The first polling place to bring their ballots to the courthouse annex Tuesday evening was Washington I. They continued at a steady pace until all 25 polling places were represented by 8:40 p.m. or so. There wasn't much excitement in the courthouse lobby as usual on Tuesday evening. Not too many people had gathered there as in the past, possibly due to the recent uptick in COVID-19 cases and deaths in the county. Also, the results are updated online as quickly as they come in, so people can watch from the comfort of their homes.

"My husband and I just voted and it was the first time I've ever seen a line," noted Mary Mattingly of Batesville. She said, "However, it only took a few minutes to do so. Everyone wore masks and was socially distant." She said Cindy Linville, the poll worker, told her they had a really long line first thing in the morning, one that went around the church building. She said that was a first. One of Mary's children stood in line for two and a half hours to vote.

As the world waits for results for the presidential race, Ripley County's clear choice was President Donald Trump and Vice President Mike Pence. Their team received 11,260 votes in the county over the Democratic Ticket of Biden/Harris with 2,773 votes.

Out of 21,040 registered voters in the county, there were 14,444 ballots cast for 68.65% voting in what many are calling an "historic" vote. Early in the evening Governor Eric Holcomb was projected to be the winner and that carried through with him coming out the winner. Ripley County did their part casting 9,517 votes for him, 2,231 votes for Democrat Woody Myers and Independent Donald Rainwater garnering 2,457 of the county's support.

The Attorney General seat went to Republican Todd Rokita as he handily defeated Jonathan Weinzapfel, Democrat, by a vote of 11,070 to 2,840 in Ripley County. Incumbent Republican Greg Pence took Indiana with Ripley County voters contributing 10,996 to that number.

There was no opposition in the county for Republican D42 State Senator Jean Leising, Republican D55 State Representative Cindy Meyer Ziemke and Republican D67 State Representative Randy Frye.

Republicans Superior Court Judge Jeff Sharp and Circuit Court Judge Ryan King were unopposed, along with Clerk Ginger Bradford, Recorder Mary Ann McCoy and Treasurer Lisa Vestal. Jason Bailey was retained in the office as Coroner.

Two new commissioners were elected – Chris Schmaltz (District 2) with 11,853 votes and James Kendall Hankins (District 3) with 11,688 votes. Both ran unopposed. They will join Mark Horstman and together they noted they have all three graduated from Milan High School, with Schmaltz saying he graduated quite a bit ahead of the other two.

For the Ripley County Council At Large seats, votes were: Katie Bailey, 8,271; Andrew Decker, 8,434; Peggy A. Ehlers, 7,262 on the Republican ticket. Cordelle Feuston ran on the Democrat ticket and received 2,434 votes with Paula Rasnick coming in on the Independent ticket with 3,316 votes. There were three seats available with Republicans sweeping this race.

Town of Holton Results:

Angela Farrell ran unopposed for the clerk-treasurer for the Town of Holton. The council will be Paul Hughes with 79 votes, Phyllis Nighbert with 85 votes and Andrew Stratton with 75 votes.

Town of Osgood Results:

Tamara Wilhoit ran unopposed for the clerk-treasurer seat for the Town of Osgood. Christopher Kuhn will serve on the council at large with 497 votes.
Town of Versailles Results:

For the Versailles Town Council At Large seats there were two Republicans on the ticket. Mike Daugherty had 533 votes with Roxanne Meyer coming in at 517 votes.

JCD School Board Results:

Those running for the Jac-Cen-Del School Board at Large seats were: Cynthia (Cindy) Allen, 425 votes; Johnny Budd with 412 votes; Jay Gayheart with 386 votes; Travis Neal with 650 votes and Nancy Redelman with 297 votes. The top three will serve on the school board. To represent the Town of Osgood for the school board was Debbie Roberts with 1653 votes.

Milan School Board:

Doug Norman ran for the Milan School Board seat At Large and came in with 2,097 votes. Edward Ted Amberger ran for the Milan Town seat on the school board and had 2,024 votes.

Batesville School Board:

Votes for those running for the Batesville School Board District 3 included: Mike Baumer with 2,056 votes, Eric Fledderman with 1,644 votes and Jeremy Raver with 1,538 votes.

South Ripley School Board:

Amy L. Miller came in with 1,734 votes for a seat on the South Ripley School Board in District 3. Incumbent Randel McIntosh had 1,374 votes.

Challenger Shelba Wiley came short of taking the South Ripley School Board seat in District 7 against incumbent Jeffrey Cornett who had 2,182 votes.

Carol Holzer ran unopposed for the District 6 seat on the school board that she now holds.

Sunman Dearborn School Board:

In District 2 on the Sunman School Board Robert Davis was unopposed. District 3 and District 7 seats were also unopposed and went to Sara Hylton and James Graf respectively.

Throughout the evening Democrat Ed Gindling and Republican Mike Weiler represented the Ripley County Election Board. On Tuesday Weiler explained they had helped set up equipment at the polling places and would travel around the county if there were any problems with the machines, etc. "We didn't have anything major," noted Gindling. They were still on the job right up to the end Tuesday evening in their official capacity.

Over 500 people voted at the Versailles First Baptist Church making that a busy place throughout the day. Tammy Wiley reported that people waited in line at Otter Creek Precincts I and II in Holton.

Even with more voters than ever, Bradford concluded, "Overall everything went smooth with the system. I'm proud of all the poll workers, and everyone who helped with this election."

Editor's Note: The totals are considered final unofficial results. The paper ballots had not been counted as of press time on Wednesday.