Motorcyclist airlifted from crash in Versailles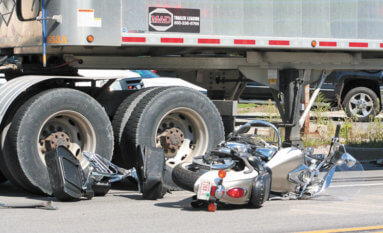 MELINDA STARKEY PHOTO
In the afternoon hours, approximately 3:15 p.m. on Wednesday, September 4, a motorcycle collided with a semi tractor trailer on US 50 and Main Street in Versailles.

Wayne Stork, Osgood, was test-driving a motorcycle from Thornton's Motorcycle Sales when the two collided, leaving the motorcyclist in serious condition. He was taken by Ripley County EMS to the Southeastern Career Center, where he was then airlifted to a city hospital for injuries. He was thrown off the motorcycle upon impact.

The driver of the semi was not injured and was walking around at the crash site. He was driving for U.S. Bulk Transport Inc., Erie, PA.

The Indiana State Police were in charge of the investigation but have not responded to calls from the newspaper for information on what happened to cause the crash. The motorcycle was lying on its side close to the front wheels with the driver laying a few feet from the bike.

Versailles Fire and Rescue were there to help get Mr. Stork ready for transport. Other agencies responding included the Indiana State Police, Ripley County Sheriff's Office, and Ripley County EMS.