Motorists asked to be aware of school buses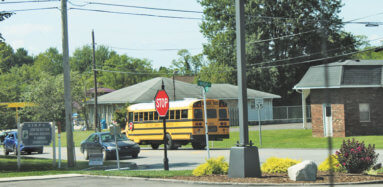 WANDA ENGLISH BURNETT PHOTO
School bus safety continues to be on the front burner for schools in Ripley County.

On July 1 a comprehensive bill was signed into law by Governor Eric Holcomb. In this bill, fines are greatly increased for school bus violations. A first violation of passing a school bus with stop arm extended is an automatic 90-day driver's license suspension. Other offenses are raised from current misdemeanors to felonies.

Senate Bill 2 also says that school corporations and nonpublic schools may enter into agreements with third parties to administer camera enforcement of school bus stop arm regulations.

Last year some people were getting cited into traffic court and told the Osgood Journal they were not speeding past buses. One lady who chose to remain anonymous said, "I would never pass a school bus, I'm never in that big of a hurry." She was shocked when a citation came in the mail to appear in court. This was for the South Ripley School Corporation with one bus driver allegedly having over 100 cars on camera passing his bus when the arm was extended. Many of the citations were dismissed due to an employee/witness who is no longer employeed with the school corporation. Supt. Rob Moorhead noted that the situation has been resolved. He said people can expect to get citations if they disregard the stop arm on South Ripley Corporation buses.

The new law signed by the Governor, gives bite to the bark about getting ticketed for passing buses.

Another safety measure is now in place. School corporations have spent a lot of time refiguring the routes so no child has to cross the road. Even if it means there are two houses directly across from each other, the bus that picks up the children on the right will not pick up those living on the left side of the road until a return trip. In some cases a different bus will pick those children up.

All of that took time, but it is time well spent when administrators look at the precious cargo their buses are carrying daily throughout the school year.

Again, everyone is asked to do their part in keeping children safe. The children should be informed about behavior on the school bus and safety about getting on and off. Motorists should be particularly aware in the morning and afternoon hours when the buses are on their route. Anticipate that the bus will stop. Be ready to stop. Never pass a bus when the arm is extended.