Mulford gives lifetime of service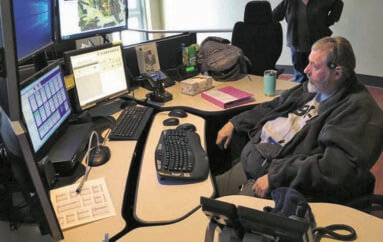 SUBMITTED PHOTO
Sunday night Ripley County lost a man who paved the way for many in the emergency management services today. At the age of 70, Dan Mulford, Napoleon, passed away at his home.

In a career that spanned years of dedication to public safety in one way or another, Mulford served the county where he lived to the fullest of his ability. He was instrumental in obtaining thousands of dollars of grant funding to allow First Responder agencies in Ripley County to receive their first 800MHZ radios as well as the installation of the first 800MHZ tower in Ripley County.

Known as the dynamic duo – Mulford and his brother-in-law Wayne Peace, spearheaded the 800MHZ project, spending tireless, thankless hours implementing the communications transition for agencies.

At one time, Mulford spent countless hours providing the Federal Requirement of National Incident Management System training to first responders and elected officials to become compliant and instructed the one and only NIMS 700 training at the Damm Theatre in Osgood, according to a family member.

Mulford devoted many hours to Ripley County LEPC (Local Emergency Planning Committee) providing HazMat training to agencies along with supporting Ripley County Ag Day each year teaching third graders the importance of Shelter In Place.
One could find Mulford volunteering at the Ripley County Fair booth with the EMA booth as well as being "the voice" of the Osgood Fire Truck Drags for decades. He enjoyed emceeing this event every year and providing commentary as only he could, noted Holley M. Rose, Mulford's niece. Rose was the Director of the Ripley County Health Department for several years and is now the District and Local Readiness Manager for the Division of Emergency Preparedness. She said, "So much about me was formed because of him and his love of being a public servant."

A public servant was how most would describe Mulford. He was an advocate for reaching out to the younger generation to share his love for HAM radio. He hosted many Girls Scout and Boy Scout troopers on tours to his Radio Room at home as well as the EMA ICV where youth could actually communicate with another HAM radio operator on the other line. "This always brought great joy to Uncle Dan. He loved to share his passion of HAM radio with future generations," Rose noted.
He loved his years, over 40, on the Osgood Volunteer Fire Department as a second generation fireman and was also a Fire Investigator.

Mulford was a former member of the Ripley County LEPC, Ripley County EMA Director, member of Ripley County and the National Amateur Radio Clubs advanced Severe Weather Spotter and so much more.

The voice of KM9X will no longer ring out, but the legacy Dan Mulford left behind will be heard for generations.
Editor's Note: The full obituary is inside today's paper.