New athletic field dedicated at Milan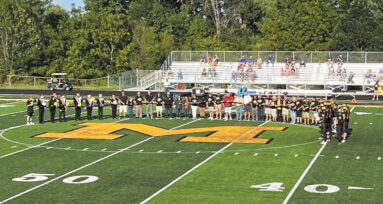 SUBMITTED PHOTO
Before kickoff at the varsity football game Friday evening, August 26, the new athletic field at Milan Community Schools was dedicated with a ribbon cutting ceremony.

Participating in this ceremony were the following groups: The Motz Group, in charge of design and construction, represented by Daimone Hatch, Supervisor; the Milan Community Board of School Trustees: Ted Amberger, Jerry Gauck, Tim Tuttle, Greg Lewis, and Doug Norman; the Milan Community School Administrators ; Superintendent Jane Rogers, high school principal Ryan Langferman, athletic director John Prifogle, middle and intermediate school principal Pat Murphy, and elementary school principal Travis Rohrig; Director of Operations, Mike Brandes, Head of High School Maintenance Josh Berger, and Maintenance/Custodian Al Redelman.

They were joined by coaches and senior members of the teams who will enjoy this fine facility this year: boys football, girls and boys soccer, baseball, softball, physical education, and the band and cheerleaders.
Community businesses who supported the project were honored during the ceremony. For field preparation and dirt removal:Dave Patterson of Patterson's Nursery, Chris and Tara Kelly of Kelly's Hidden Acres, and Randy Voght of Golf Construction Associates.For electric and lighting Rodney Crabtree of RC Electric.

The flagpole and flag were purchased from Patty and Keith Abbott of Abbott Flagpoles. There were many sponsors who made the new scoreboard and play clocks possible. The Nevco company was in charge of installation and represented by Kevin Stephenson. Other sponsors and the representatives at the ceremony were Linda Meyer of Civista Bank, Jeannine Crandell of Napoleon State Bank, Scott Helton of St. Elizabeth Healthcare, Nathan McGhee of Tom Tepe and Car Country, and Wendy Meyer of H & R Block.

This ceremony is the culmination of the vision of the school's administrative team, the leadership of our school board, and the support of our taxpayers to provide our students with the very best education and extracurricular opportunities that we can fiscally afford. This field is a small part of a bigger renovation project which is being completed with no additional tax to our citizens.
Milan Schools have long recognized the importance and value of athletics and activities in providing essential learning opportunities and valuable life lessons. The events that take place on this field will foster those important connections.

Many conditions made this field a high priority: the lack of field space for the increasing number of participants in sports and other activities, the effect of the weather on the old field, and most of all, the desire to provide our students and community with the very best facilities.

This dream took shape under the hands of The Motz Group from Cincinnati, Ohio. Their team designed and assembled every inch of the field. Milan's maintenance team worked tirelessly along with them to ensure all details were considered.

The ribbon was cut to dedicate the field to the students of Milan Community Schools and the families and patrons of the Milan community in hope that it will serve as a safe place for healthy competition for many years to come.

The field was completed August 10. Both boys and girls soccer games, and middle school football games had been held on the field prior to the official dedication. It has been used daily for soccer and football practices, physical education classes, and band.