New firefighter takes oath at B'ville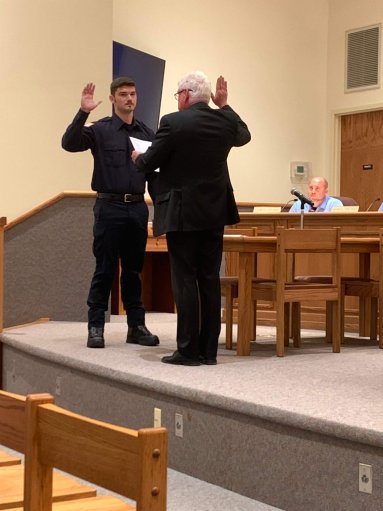 TALI CROWE PHOTO
Mayor Mike Bettice led Spencer Broughton, 22, of Cedar Grove, through his swearing in ceremony, officially adding him to the Batesville Fire and Rescue's ranks.

Broughton's family and other members of Batesville's Fire Department were present Monday to witness his oath and badge pinning ceremony. He has served as a part-time firefighter or emergency medical responder with Rescue 20, Bright Fire Department, and Batesville Fire and Rescue since he graduated from Franklin County High School in 2017.

In other council business:

Council approved Batesville Kiwanis' request for $2,500 from the city's Belterra Funds. Kiwanis Applefest Chairman Jay Reichmuth said the funds would be used to help with advertising for the annual Batesville Kiwanis Applefest. Councilmen Bill Flannery and Darrick Cox both advised Reichmuth that this could be the last year the city approves the funding request, noting the high demand on the city's Belterra Funds for other projects and organizations.

Reichmuth explained the group will bear that in mind as they plan for next year, but will still aim to put as much money from the event back into the community as they can. Applesfest will be Saturday, September 25 at Liberty Park.

Clerk-Treasurer Paul Gates advised council to plan for the city's annual public budget meeting to take place on Tuesday, August 31 at 6 p.m. He expects to have the new salary ordinance for next year's budget to be ready for its first reading at Council's regular August meeting. Bettice informed Council that the city will be taking over some of the maintenance of the city's interstate exchange after discussions with the Indiana Department of Transportation (INDOT). He said the state will only mow the area twice a year, and if the city wants the area maintained more frequently then that, the state said they could do so themselves.

Bettice said he heard comments during the city's Fourth of July events about the state of the exchange and argued that the city needed to maintain the gateway's presentation to keep on track to encourage people to not only visit the city but also consider working and living in Batesville.

As part of a cooperative effort by Batesville, Greensburg, Rushville and Shelbyville, to create an economic development region along I-74, leaders from the local cities will meet on July 23 for a workshop as they prepare to apply for a $500 million Indiana Regional Economic Acceleration and Development Initiative (READI) planning grant as Accelerate Rural Indiana, a not-for-profit organization being launched by the cities and counties.

Batesville's Board of Public Works approved four street or parking lot closures during their meeting Monday evening.

The parking lot next to the Umbrella Sky Project will be closed from noon to 9 p.m. on Saturday, July 31 for another Skate Jam organized by Batesville's Skate Park Advocacy Group. One lane of Huntersville Road to Columbus Avenue to Mulberry Street to St. Louis Cemetery will be closed from 8:30 to around 9:30 a.m. for Batesville High school Cross Country's 20th Annual Bulldog Chase 5K.

The city parking lot across from Weigel's Funeral Home will be closed from 2 to 7 p.m. on September 18 for Mainopoly's Touch a Truck event, which will take place from 4 to 6 p.m.
Temporary speed bumps, which will be painted pink, will be placed at Pearl and Main streets from September 27 through October 8 as part of Margaret Mary Health's second annual Paint the Town Pink – Check Your Bumps Campaign for Breast Cancer Awareness Month.

Council will meet again on Monday, August 9 immediately following the board of public works meeting at 6:30 p.m.