Newest board member at JCD takes oath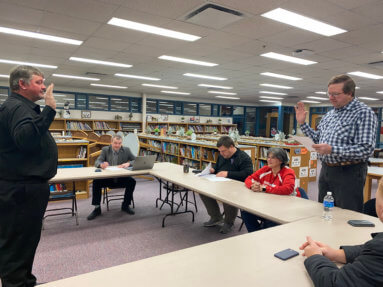 WANDA ENGLISH BURNETT PHOTOS
Jay Gayheart was installed as the newest board member for the Jac-Cen-Del School Board on January 20 at the JCD Elementary Library.
This was done at a special called board meeting to replace the vacancy created when Travis Neal resigned at the December meeting.

Gayheart noted, "I am ready to take on the job." He told the Osgood Journal that his family has lived in the area for years and he has always been interested in helping in the school system. He ran for school board when Neal took the higher votes. "I am looking forward to serving on the board," he said.

Gayheart will complete Neal's term. He said he will see what it's like before making up his mind to run for the position again. He was given the oath of office by James Westerman and welcomed to the board by Jason Smith, president, Jason Wagner and Debra Roberts, along with Superintendent Ryan Middleton, who were all in attendance at the special meeting. The Board was legally able to make the appointment if done so within a 30-day time frame, which they met with having the meeting on January 20.

Also in that meeting, board members approved Peggy Burke as a corporation bus driver. Supt. Middleton discussed the problem of having enough bus drivers and said they welcomed another driver on the fleet.
Also discussed at the meeting was the updated plan for the school corporation involving COVID-19. Supt. Middleton noted that the updated plan is now on the school's website and they will be following the CDC guidelines. "It's pretty standard," he noted saying they feel like they have a good handle on the situation at the moment and don't want to close the school if it's at all possible to continue with in-school learning.

President Smith noted the school is navigating the ever changing world of COVID-19.

Supt. Middleton gave a little hint of what's to come at the next regular board meeting saying there is potential for the school to have a Boys Volleyball Club. Noting it would be something fun for the students, he said they are excited about the possibility.

The Jac-Cen-Del School Board meets on the third Monday of each month.