Newspaper brings people together, Christmas miracle keeps giving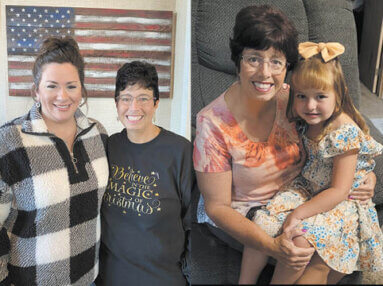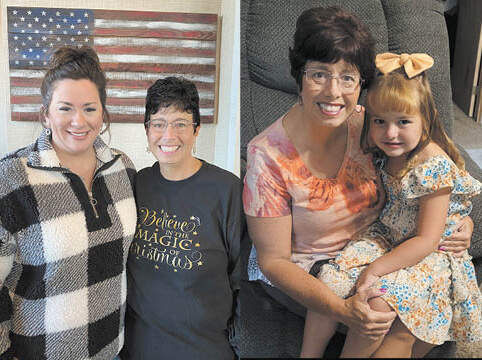 WANDA ENGLISH BURNETT PHOTO, SUBMITTED PHOTO
Like the opening line of Charles Dickens', A Tale of Two Cities, "It was the best of times, it was the worst of times," two families realized the phrase in its totality last Christmas Day.

"It was the miracle we had been waiting for," Michele Hosmer of Milan, happily announced. While somewhere in Ohio, another family experienced the worst day of their lives when their precious 21-year-old daughter took her last breath.

"I never once questioned her being an organ donor," the mother of the 21-year-old told The Versailles Republican in an exclusive interview last week.
After all, Lori Smith of Somerville, OH, found her daughter's recipient through reading an article in The Versailles Republican.

It's a story with tears of sadness, tears of joy and the uniting of two women through the death of Lexi Smith, Lori's daughter.

It was no secret that Michele needed a kidney. The long-time (over 30 years) physical education and swim teacher at Milan Elementary was on dialysis for kidney failure and on a waiting list for a kidney. "We got the call about 8:00 a.m. Christmas morning (2021)," her husband, Mark, or more commonly called Doc, told the newspaper previously. They were elated. It was the ultimate gift.

A year ago, the Smith family had their own situation. They were dealing with their daughter Lexi's failing health. "She was diagnosed with a cist on her brain and had a stroke," noted Lori, who said when they knew the prognosis wasn't going to be that Lexi could live, they were asked about donating. "I never hesitated," she noted, telling how when Lexi was born, she had to have a donor for a heart problem she had. "It was an automatic yes," Lori said. Lexi became a life giver to several people as multiple organs were donated.

"We were given the gift of life and I knew we would pass that on," Lori said. While losing their first-born wasn't easy, Chad and Lori knew donating her organs was the right thing to do. Even organs that couldn't be procured, were usable in a lab at Cincinnati Children's and University Hospitals.

Lori talked about her faith, saying her prayer was for the people who were getting 'the call.' "I just prayed everything would go smooth." And, for Michele, it did. She had absolutely no rejection with the transplant and just had her year checkup, with no problems.

The Smiths and Hosmers just met in person on November 13 this year, a day before Lexi's birthday. They share the joy that a life taken is a life given. They share many similarities – their love of basketball, football, and more. The Hosmers are traveling to see Lexi's brother, Roman, who is 15, in a game and look forward to a long relationship with this family that unselfishly gave so Michele could live.

Lori told how she searched for anyone who might have been a recipient, just wanting to find that connection after her daughter's death. She found it and more in Michele. She knows that it was the right thing to do as she laughs and talks with her new friend, who shares her daughter's kidney.

This Christmas Lori says they are celebrating their daughter by decorating her grave with a Christmas tree, bells and candy canes. They are celebrating the birth of Jesus, the birth and death of Lexi and the life of Michele and all the others who benefited from their loss.

When someone is a donor, they have what they call the "Honor Walk". Lori explained that nurses and medical staff line the hallways and escort the bed down the hallway as the loved one is ready to give the gift of life. She noted that at the exact time they had the honor walk last year at the hospital for Lexi, friends and family had an honor walk in their hometown.

This year Lexi's Laps for Life 5K Walk & Run is set for Saturday, December 15 at Kumler Field in Trenton, OH. (5005 SR 73 Trenton, OH, 45067). This event has been organized to spread awareness about the importance of organ donation. They are collecting toys along with the donation for the event that will be given to Cincinnati Children's Hospital Medical Center. All the funds raised will go directly to LifeCenter Organ Donor Network.