Newspaper matriarch passes away at 102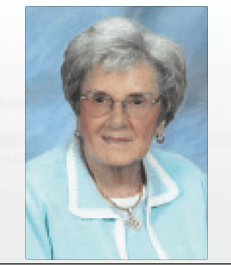 SUBMITTED PHOTO
Living just a few weeks shy of her 103rd birthday, Dorothy Craig has led a full life complete with world travels.

Dorothy was an integral part of the newspapers – the Osgood Journal and The Versailles Republican – well up into her 90's as she performed a variety of tasks. Nothing was too small or big for her to tackle as she mentored a work ethic second to none.

The ownership of the local papers has been in Dorothy's family for four generations – it was just a way of life as she grew up in Versailles.

Never letting the grass grow under her feet, Dorothy would skate throughout the town of Versailles as a child – falling many times and skinning up her knees. She would tell about how James or "Uncle" Jim Tyson would come to visit her father, and would give her a nickel if her knees weren't skinned. She didn't get very much money from that deal.
Although Dorothy went away to college, she soon found that she wanted to be at the family owned business and settled in Versailles for life. Her grandfather owned the newspapers, her parents and then her husband, Carlos "Barney" Craig. Now her daughter, Jo Jean and son-in-law, Gene Demaree own the newspapers.

She remembers setting type by hand using the linotype machine. This is a line-casting machine used in printing. It has a 90-character keyboard to create an entire line of metal type. Of course, computers came along replacing the laborious job. She worked in the front office mostly at the newspaper, but behind the scenes – the way she preferred it. She loved to read and read thousands of books, magazines, whatever she could find. She loved knowledge. Dorothy wrote what was dubbed as the "Locals" for the Versailles area, gathering the news for that section at the young age of 13. This was about daily lives – much like Facebook now, but in the newspaper. The social column would tell about who had visitors, when someone went to the city shopping or the latest in health conditions.

Dorothy has traveled the world and was delayed in Egypt in 2001 when terrorists attacked the United States. She said she wasn't afraid, but was tired and wanted to get home. She traveled even after that saying "you only live once." She said Greece was her favorite country to visit and even went to some countries more than once.

Always up for a new adventure, Dorothy was ready to go shopping, to the theatre, play cards or see a show at a moment's notice. She would talk about the days when you had a "dance card" and attended multiple dances as did many of the teenagers at that time. She would hop on a Greyhound bus and ride to Indianapolis for dance lessons. Those were the days when a dance only cost 25 cents for girls and 35 cents for the boys. She said, "I think I went to three dances a week." She also joked that if her husband hadn't been a good dancer, she might not have married him. She loved the Big Band Era of Glenn Miller and Tommy Dorsey, some of her favorites. "I will just get up in the living room and dance when they come on television," she would say.

A big part of her life was Tri Kappa and going to the Tyson United Methodist Church, which she remembers being built. "Daddy would stop by and check on the progress quite often," she said of the architectural wonder that graces the corner of Tyson and Adams. She believed in the Church and what it stood for and was there every Sunday except when she was traveling.

Everything Dorothy did was with a sense of excitement. Even going to multiple basketball games at Indiana University with her husband. "He never worried about the weather," she noted, as she told of traveling there many weekends in inclement conditions. She was in love with her husband, who was taken from this life way too soon at the age of 59, just when the couple thought they would retire and travel. But, she never felt sorry for herself. She would say, "There are many others in the same position as me."
Telling of how things were rationed during World War II, Dorothy has seen many changes in the world and at the newspaper over her lifetime. She lived at a time when life was simpler, definitely cost less and old fashioned living was at its finest. A quarter would get her into the movies, complete with a soda and snack. Whether in Hong Kong, Africa, Europe or one of the many islands she traveled to, she found joy in everything she did.

Dorothy learned to drive a car after her husband's death and maintained her own home until she was in her 90's. She displayed strong character that was a part of the fabric of her being. She did what needed to be done and enjoyed life to its fullest.