Nicholson runs in Top 100 at state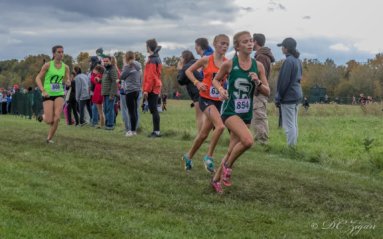 Photo by Dave Zigan
Two hundred five runners hit the start line under less than ideal running conditions and among the Top 100 out of that pack to come across the finish line was South Ripley senior Lanie Nicholson as part of the IHSAA Girls Cross Country State Finals at the LaVern Gibson Championship Course in Terre Haute.

The 3:00 p.m. race was run under cloudy skies and wet course conditions after the area was plagued by rain, wind and cold temperatures. Columbus North was crowned the team state champion after finishing with 79 points, 13 points better than state runner-up Carmel at 92 points. Chesterton, Hamilton Southeastern and Noblesville rounded out the top five. The individual state champion was junior Lily Cridge of Indianapolis Bishop Chatard in a winning time of 17:32.70. Cridge won the meet by over 30 seconds.

As for Nicholson, the Lady Raider was just one of a handful of small school runners in the state finals and one of the rare small school runners to even finish in the top 100. Nicholson's time of 20:17.60 put her right at 100th place, finishing less than two seconds after Boonville's Emma Gresham and Northview's Halle Miller in 98th and 99th respectively.

Nichoslon was over two seconds better than 101st place finisher Robyn Schemel of Westfield. Both cross country state finalists for the South Ripley girls cross country program have now been top 100 finishers. Megan Cole finished 63rd in 2018 in a time of 19:30.50.

Only one other local competitor raced in the 2021 state finals. East Central's Rachel Campbell ran and was 135th in a time of 20:50.

The 2021 cross country season is officially in the books and puts a wrap on a stellar career for Nicholson who has racked up nearly every accolade that can be achieved by a runner. She will now set her sights on the 2022 track and field season this spring.