No-show witness pauses murder trial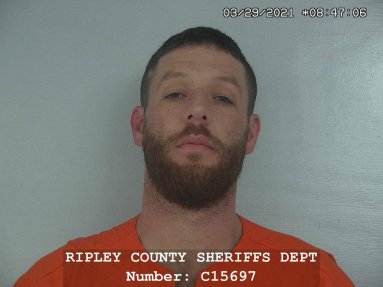 SUBMITTED PHOTO
Jordan Knudson, 37, Holton, faced a jury on Monday, April 4 in Ripley County Circuit Court after he was charged with the murder of Kristina (Krissy) Jones on January 10, 2021, at a residence in Holton.

The trial came to an abrupt halt on Tuesday afternoon when Norman Knudson, the defendant's father, and a witness subpenoed by the State, did not appear.

Prosecutor Ric Hertel said Norman had been contacted as all of the other witnesses had been and knew when to be at the courthouse. The Defense attorney, Ross Thomas, said he thought there could have been a communication problem involving Norman's wife, Pina.

Judge Ryan King ordered that Norman be brought to court by the fastest means possible. The State said they had an Indiana State Trooper on the way to his house near Holton.
After a lull in court proceedings, Norman took the stand and testified that his son had in fact shot a .410 sawed off shotgun at the UTV Jones was driving in an incident a few months before her death. He said while he couldn't hear exactly what they were saying he knew the tone was argumentative. He said the gun barrel was cut off and his son used it like a pistol. He said the bullet penetrated the radiator disabling the UTV a few miles away.

He also testified that Al Asche, Jones's father, had come to the Knudson home looking for his daughter after he received a text saying she was being held against her will by Jordan. Asche had testified on Monday to the same incident saying it was on December 14, 2020.

The two fathers had differing memories of the December day, and yet they were similar. Al said he drove to the house and knocked but initially no one answered. He then went to the barn where he found Norman and showed him the text he had received and said, "Your son has been doing horrible things to my daughter." Norman replied, "I know." This was met with an objection from defense, just one of many throughout the first two days of trial.

Norman said he took Al inside his home and eventually Jordan came out of an upstairs room. With yelling from Jordan, Jones came out of the room and left with her dad.
Jordan tried to retrieve a bag that had his cell phone in it and his cigarettes, but Jones held on to it. She told her dad it had video on it of her that she didn't want anyone to see that Jordan had taken. Al testified that he called police that day because of the situation. He said Jordan tried to get the bag out of his truck and was screaming at them and slapped his mirror as they left the driveway.

Jones sought a protective order on December 15, 2020, which was granted. However, as testimony revealed, Jordan evaded police when they tried three times to serve him with the paperwork. Norman said Jordan was home two out of the three times, but wouldn't come out to get the papers from police. He just said, "He wouldn't come down." When Prosecution asked Norman if he encouraged his son to comply with the orders, he said, "I tried to get Jordan to get the paperwork."

In opening statement, Prosecutor Hertel said Jones was gunned down in a bathtub just hours after having dinner with her two children. Later testimony and evidence would support that. He presented a timeline of terror for Jones that began about a month before her death relating to the defendant. Hertel said there was motive, opportunity, violence and intent on the part of Jordan, who was in a relationship with Jones at the time.

A Facebook post on December 11, 2020, from Jordan to Jones read, "Hope you die, evil, lying, cheating, b_____, die."

On December 12, 2020, the defendant was accused of burning Jones' belongings on the road by a place where she was known to stay.

The calendar rolled on with the December 14, 2020, incident with Jones at the Knudson home, followed by a trip to the hospital on December 15, 2020, where Jones told medical personnel that Jordan hit her often in the head to keep the evidence of abuse low. A protective order was also granted on this day.

On January 7, 2021, a message from Jordan to Jones read, "Hope you get burned alive, die b….., DOA."

January 9, 2021, saw Jones hiding in a stranger's vehicle at the Holton Food Mart and then accepting a ride from another stranger to try to escape Knudson.

On Sunday, January 10, 2021, Jones had dinner at a pizza place in Westport with her estranged husband, Adam Jones, and their children.

Jones was dropped off at a friend's home and no messages went out from her phone after 10:57 p.m. By midnight she was dead.

The phone Knudson was using showed 20 unanswered calls to Jones's number along with 21 texts from him to her. "He blew her phone up," said Prosecutor Hertel.

Just a little over an hour after the silence of her phone, Jones was silenced forever when Jordan put a .410 shotgun to her face and head, the Prosecutor said. He went on to say three shots were fired leaving Jones's bloody body in a bathtub at the home of Rodney McEvoy on 700 N. just outside of Holton.

Defense began his opening with telling the jury there's a problem with the evidence. Thomas said that people who saw Jones on the last day of her life couldn't tell the truth, telling multiple stories – lying. He said the prosecutor couldn't tie a particular gun to the crime and there was no scientific evidence connecting his client to the murder.

Thomas said police investigators did a sloppy job and simply went with the suggestion from the 911 call that Jordan Knudson was the perpetrator. "There's too many questions unanswered. There's no blood, no DNA," he told jurors.

Among the first witnesses were Marilee McEvoy, who was on the scene just minutes after Jones's body was found giving her CPR to no avail. She said she knew the defendant as he was friends with both Jones and her son, Rodney McEvoy. She testified that her son came home that terrible night to find Jones in his home – lifeless and bloodied. She said he screamed for help. Marilee would make the 911 call that night for help that was played in court.

Ripley County K-9 handler Adam Hunger testified along with Dr. Mona Greta Stevens, a forensic pathologist. She said that Jones was not beaten as had been initially thought, but, rather shot three times. Evidence was presented through photos of Jones's body at the forensic lab and multiple pieces of the shot that had riddled her face and head. ISP Sgt. Stephen Weigel testified at length about his role as a CSI in the case. He showed evidence that included the clothes Jones was wearing the night of the murder. Sgt. Martin Meade of the ISP also was called as a witness.

Others included an expert witness from Remington and one from the ISP State Lab.

Editor's Note: More witnesses for the State were expected to be heard on Wednesday, April 6. The burden of proof is on the State. The week of April 4-8 has been set aside for the trial, with the possibility of it going into the next week. We will give an update on the trial and possibly the verdict in next Tuesday's Osgood Journal, April 12.