Nomination for Golden Owl Award goes to SR FFA Advisor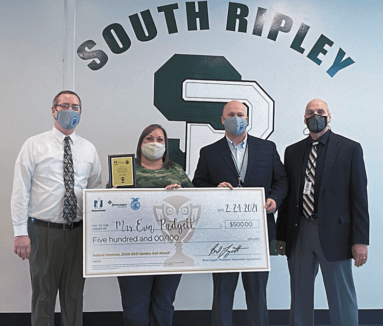 WANDA ENGLISH BURNETT PHOTO
Mrs. Erin Padgett, the South Ripley School Ag teacher and FFA Advisor has been named Indiana Golden Owl Award nominee. Out of 81 nominees, she is one of eight who will now move into the finals.

Indiana State Department of Agriculture Director Bruce Kettler recognized the importance of these educators and is looking forward to honoring more agriculture educators in the future. "Indiana agriculture is so fortunate to have some of the most elite educators cultivating the next generation of agriculturists for our state," Kettler noted. "This is the first year Indiana has participated in this program and I look forward to honoring these deserving teachers for many years to come."

"Mrs. Padgett is an amazing ag teacher, who inspires us all to do our best," noted Lanie Nicholson, chapter treasurer and nominator of her teacher for the award, among others. Nicholson said the group truly enjoys learning about agriculture and the camaraderie the chapter at South Ripley offers.

The announcement was made last Thursday at South Ripley High School with Principals Joe Ralston, Derik Hutton and Superintendent Rob Moorhead there for the occasion. They all noted that Padgett was a great asset at South Ripley with her teaching techniques and leadership in the agriculture program.

Padgett was awarded $500 and a plaque in recognition of this honor. The selected winner of the Golden Owl will be announced in June at this year's Convention and will be awarded $3,000.

"I am honored to receive this nomination," Padgett told the Osgood Journal. While she said she was hesitant to say she "works" hard with the program, she does put in a lot of time she considers fun! She enjoys the subject matter, saying she grew up in a farm family atmosphere, always enjoyed 4-H and anything to do with ag. "It doesn't seem like work," she noted.

The Golden Owl Award began with Nationwide Insurance in 2018 and has participation from FFA organizations in seven states. This is Indiana's first year participating in the award program, which is to raise awareness of the importance of agricultural education and the tremendous contributions of teachers.

"Anytime we can celebrate the purposeful, difference-making role that our educators play in the lives of students, we should. I am thrilled to join in the celebration of these Hoosier teachers who are earning the Golden Owl Award," said Dr. Katie Jenner, Indiana Secretary of Education. "Our agriculture teachers are innovating every day to help students build important leadership and life skills for their future. It's critical that we continue to support these important career-centered programs, their educators and their students."