Not sure it was a tornado; but damaging winds caused havoc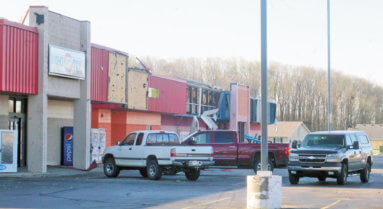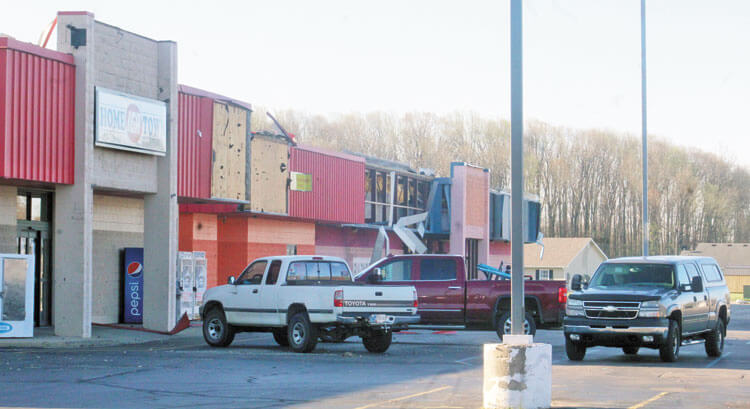 WANDA ENGLISH BURNETT PHOTO
Last Wednesday, April 8 around 9:45 p.m. a Severe Thunderstorm Warning was put out for Ripley County, which was upgraded quickly to a Tornado Watch. By 10:30 p.m. the effects of the warnings were being felt throughout the county. As to whether it was a tornado or not, still remains open, as Randy Miller, interim EMA director for Ripley County awaits the word from the National Weather Service.

"We were working remotely as much as possible," Miller told the Osgood Journal, as they are acutely aware of COVID-19 and worked around that obstacle as far as getting information and photos. A drone also helped the local emergency agency in gaining photos that were sent to the National Weather Service out of Wilmington, OH. "It was a disaster within a disaster," noted Miller.

He said they took damage reports from Holton, Versailles, New Marion, Friendship, Cross Plains, and Farmers Retreat, along with rural areas. Miller noted that 25-30 properties had damage, including businesses in the Versailles area. Barns, silos, campers, and outdoor structures of that type were destroyed, with minor damage to homes that were still able to be occupied. Large trees and power lines were snapped like twigs. Miller estimated at least 10 power poles had to be replaced, that left hundreds of Ripley County residents without power for nearly 48 hours.

Winds, rain and hail ripped through the area taking down trees that caused accidents, from one in Holton to one on US 50 when the trees were snapped off or uprooted from the speed of the winds.

Some businesses damaged in Versailles included the Hometown IGA, Tequila's Restaurant, the old Alco building, Rusty Buck, the Rolling Pin where one of their trucks was tipped over, and Pollard's Bowl, to name a few. New Marion Sales had major damage, along with many of the greenhouses in the area. Other homes had downed trees, one on Tanglewood Road, that blocked the driveway preventing the owner from getting out.

The night held terror as many described hearing the storm as it came into town. Some said it had a distinct "freight train" sound, while others said it was an eery sound and feeling. No reports of injuries were made and for that the Versailles residents say they are thankful.

On Thursday morning in the light of day the damage could be seen in its full force. The playground area at Little Blessings Christian Preschool was mangled, along with an iron post that had held billboards for years. The plaza just beside the Stratton Karsteter Funeral Home had the roof damaged, but the funeral home was spared. Then the wind seemed to skip over to Pollard's Bowl, where one of the owners, Ron, noted, it took out the bowling alley, left his dad's house, and went across the road and got his place. A large pole barn was completely dismantled with pieces strewn across lawns, and his boat was actually turned sideways.

Duke Energy and crews from REMC worked hard to get the power up and going.

The Versailles Volunteer Fire Department was on the job, along with town police for many long hours, just keeping the traffic flowing. One firefighter said, "This is definitely not essential traffic," as the steady stream of onlookers came through on US 421 Thursday morning.

From the communications in the 911 department to the fire departments, first responders, police, highway department, and more, Miller said the disaster was managed and he is thankful for each person doing their part. Many volunteers came from outside the area to help put a tarp on a roof, cut a tree out of the way, etc. The town of Versailles employees did their job, including setting up two large dumpsters for any spoiled food people had from the power outage.

Restaurants, which have already had the first punch, received the second blow when they had to close and some had damage inside and out. Tequila's owner told the Osgood Journal there was damage inside the kitchen and bar area from the roof being ripped off and rain coming inside. The IGA Store, had to be closed for a few days to get things back in order. They are now open.

The Ripley County Health Department, which is already under a heavy load with COVID, were out in the field working with Miller. The Red Cross was also deployed to Ripley County.

The way the emergency crews had to handle this situation was much different before COVID-19. Everything that could possibly be done remote, was done. However, there are times like these when you have to be with others not in your group. Miller says he is thankful for those workers who went out and did their jobs during this trying time.