Nothing stops a 102-year-old's birthday party!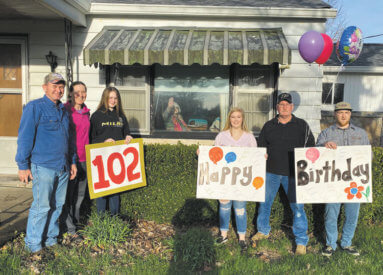 SUBMITTED PHOTO
Mildred Bruns turned 102 recently and with all the COVID-19 situation, her family didn't think it was a good idea to have a party. So instead, they surprised her with the family gathering outside her home in Sunman with signs that read "102" and "Happy Birthday". She smiled and waved from her safe place in her home with a big smile on her face.

Mildred was born in the Sunman area and spent her entire life there, according to her grandson, Dave Bruns. He said she married his grandfather, Robert Bruns, while he was home on leave during WWII. He was still on active duty at the time. She grew up less than a quarter mile from the man she would marry and raise three sons with: Warren, Dale and Marvin.

Robert had several different jobs after the war, but was probably known the most for being a mechanic and working on Oliver tractors. "Grandma is the best cook on the planet…but, my opinion may be slightly biased," Dave told The Versailles Republican.

This wonderful woman, who means the world to her family, has seen many changes in the world. Still, she holds the values of those known as "The Greatest Generation"; from the WWII era. Her family sees her daily and they miss the close connection right now. Looking through the glass just isn't the same.

The Bruns family know they are fortunate to have Mildred with them and are just thankful to celebrate this birthday with her any way they can.