Numerous depts respond to house fire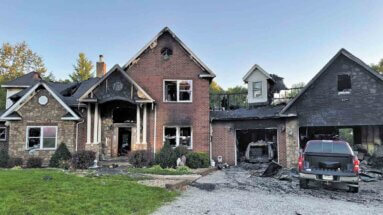 SUBMITTED PHOTOS
The Osgood Volunteer Fire Department was dispatched to a structure fire at the 1000 block of west 500 North just after 11:30 p.m. on August 12, where they found the home of Rachel White completely engulfed in flames.

According to information from Osgood Fire Chief Kyle Negangard, firefighters could see heavy black smoke as they turned off of US 421 onto 500 North. Immediately they knew they needed additional help. "I immediately asked the county to dispatch two more departments for manpower and tankers," Negangard noted. He said upon arrival the firefighters took a defensive attack to the garage portion of the large house. "At this time we asked for two additional tankers to be dispatched to the scene. We transitioned to an offensive attack and entered the residence through the front door, where they were met with high temperatures and blackout conditions."
Negangard said soon after making entry they had to back out due to the structure showing signs of sagging in the roof and floors. "We continued with a defensive attack until we were able to get the fire under control."

The fire chief noted that two juveniles were taken from the scene by ambulance to Margaret Mary Health for burns and smoke inhalation.
Responding to the near midnight fire along with The Osgood department were: Napoleon Volunteer Fire, Versailles Fire Rescue, Delaware Volunteer Fire, Milan and Holton Volunteer Fire, New Marion Volunteer Fire, Aurora Fire rehab unit as well as the Indiana Fire Marshal's Office. Other agencies included the Ripley County Sheriff's Department, Duke Energy and Ripley County EMS.

When these departments go on a big fire such as this one, other departments come in to back up them. In this case, the Friendship Volunteer Fire Department was dispatched to Versailles to back their station and New Point Fire in Decatur County was put on standby to back up the Osgood and surrounding areas while they battled the blaze.
At 7:00 a.m. firefighters from the Osgood Fire Department were just returning to their fire station, but were still very active in clean up and processing the situation.
The White family lost everything in the fire. A Benefit Account has been set up at the Napoleon State Bank for the family. You can make a deposit at any of the bank's locations. You can drop off the donation in the night deposit box and mark that it is for the Benefit Account of Rachel White.
If you would like to know more or make other donations, please contact Tracy Wilson at 812-621-1439; Mandy Comer 812-621-0903, or Jennifer Kramer at 812-614-9998.
Also, on Tuesday, August 16 and Wednesday, August 17, the Jac-Cen-Del Junior High Volleyball will be collecting free will donations for the White family. There will be a jar set up at the concession stand at both games.

Volunteers are always needed for area fire departments. Anyone interested should contact their respective department to see how they can be of help in a time such as this.