OA Football on hold in 2022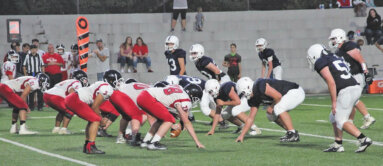 PHOTO COURTESY OF OA ATHLETICS
Oldenburg Academy football is officially on hold and will not field a team for the 2022 fall season. What is next for the program remains a mystery.
School officials confirmed the status of football at the school this past week after the majority of the summer has seen no posted schedule nor any news about offseason training sessions. Former Oldenburg athletic director Patrick Kolks, who left the position at the end of June, says that the Twisters considered moving to the newly created 8-man high school football world this upcoming school year but for now will put all gridiron thoughts on hold.
"We were attempting to go to eight-man football," Kolks said in an email. "But with the drop in enrollment and drop in interest we have decided to pause the football program this fall."

Eight-man football was approved by the Indiana High School Athletic Association after a proposal was brought to them a year ago by the Indiana Football Coaches Association. The sport will spend the 2022-2023 calendar year running a pilot program that features up to 10 participating high schools, which will include nearby Waldron High School. The sport is being offered to those schools around the state that do not have an existing high school football program.
Another nearby school in Trinity Lutheran has expressed interest as well should the sport be deemed a success in its pilot season. The potential is there for other non-football schools, both locally and throughout the state, to start exploring the option should eight-man football gain some steam. Oldenburg certainly continues to have interest if numbers and enrollment can go back on the rise.

"The interest is there," IHSAA assistant commissioner Robert Faulkens told the Indianapolis Star back in April. "But going from interest to reality in football is a difficult move. Starting a football program is a big financial commitment, from facilities to equipment to playing the game. But having eight to 10 schools that are on the cusp of playing eight-player football is a good number. When they have success, I think we'll see more schools have interest moving forward."
Oldenburg started playing varsity football in the fall of 2013 and finished 1-6 under head coach Wes Gillman before a complete turnaround the next year and finishing with a 6-3 mark. 2015 marked the first year the Twisters were eligible for the state tournament, defeating Edinburgh 47-12 in round one before a semifinal loss to North Decatur. Gillman's crew racked up its second-straight winning campaign and finished with a 7-4 overall record.

Graduation then put Oldenburg back into some hard times and the program did not produce a winning season for the last six years. Gillman left as head coach after an 0-10 season in 2016 and was replaced by Kevin Fernedig for one year. Eric Feller followed for three seasons and was 11-17 during his tenure. Bryan Mitchell coached the Twisters in the fall of 2021.

2021 saw Oldenburg go winless in a shortened season due to COVID-19 and various player injuries. The Twisters scored just a combined 28 points for the season and finished 0-6, concluding with a 40-0 loss to Milan in the opening round of the sectional.