OA girls open with win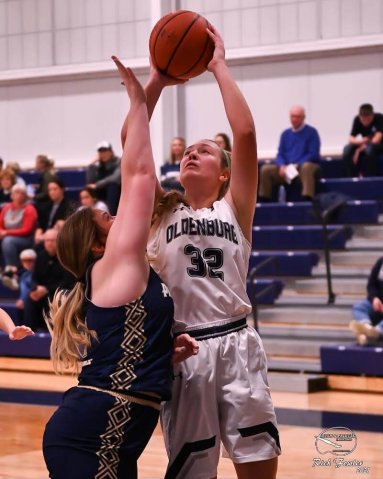 RICH FOWLER PHOTO
Oldenburg Academy girls basketball has high hopes for the 2021-2022 season and that kind of potential shined on Friday night as the Lady Twisters beat Providence 46-32 in the season opener at home.

The Lady Twister offense caught fire early to the tune of a 15-13 lead by the end of the first quarter and a 12-4 second quarter run allowed for a 30-20 lead at halftime. Providence (0-1) would spend the majority of the third frame trying to cut the deficit and did so to 31-26 with two minutes left in the period but Oldenburg would close out the game on a 15-5 run and secured its first season-opening win since 2018 when the team picked up a 46-44 victory over Tri-Central.

Sophomore Ellie Ryan gave Oldenburg its first nine points of the game and Ryan would finish the night with a team-high 21 points on 8-of-15 shooting. She finished out the night with 12 rebounds to give her a double-double. Junior Hannah Haverkos had 13 points, six rebounds, six steals and six deflections to give the Lady Twisters a boost on both ends of the floor. Emma Weberding, a senior, had a team-high 13 rebounds.

Ashley Borgman finished with five points, four rebounds and four deflections and Kate Weber added four points, three assists, six steals and three deflections.

Oldenburg (1-0) plays a pair of Southwestern schools this weekend. The Twisters visit Southwestern (Hanover) on Friday and host Class A No. 16 Southwestern (Shelby) on Saturday.