OA netters are state bound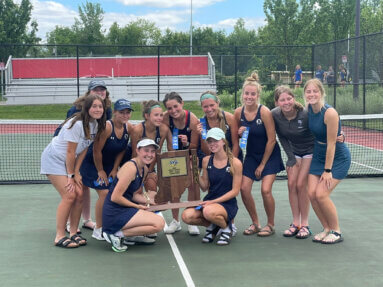 SUBMITTED PHOTO
Oldenburg Academy girls tennis made school history and is now just two matches away from playing for a single-class state championship as the Lady Twisters spent the weekend winning both the regional and semi-state titles as part of the IHSAA Girls Tennis State Tournament.

The Lady Twisters are set to play in the state quarterfinals on Friday at Center Grove High School. Oldenburg will meet No. 20 Delta with the winner advancing to the semifinal round on Saturday against either No. 4 Fishers or No. 9 Evansville Memorial.

Oldenburg played a thriller of a semi-state clash on Saturday at Center Grove, knocking off Franklin Community 3-2 in the championship. Franklin led 2-1 after capturing a pair of singles matches but Oldenburg came back strong in doubles action to get the victory. After taking a win at No. 1 doubles, the Lady Twisters continued their momentum and finished in big time fashion at No. 2 doubles, earning a 5-2 lead in the third set en route to racking up the title, the first for the program.

Also a first for the program was the night before on Friday when Oldenburg defeated Franklin County 5-0 to win the regional championship. Mother Nature's daily downpours and thunderstorms had forced a two-day postponement of the action and host Richmond was forced to move the regional to a nearby indoor facility in Ohio. The unique move certainly did not bother the Lady Twisters who dominated the Lady Wildcats, sweeping all three singles matches and both doubles matches.

Isabel Price, Alyssa Wanstrath and Evie Vanderpohl will compete in singles action for Oldenburg on Friday in the state quarterfinals. Doubles competitors for the Lady Twisters will be Mimi Wilder, Evelyn Storms, Mary Hunter and Emma Back.

Oldenburg plays on Friday at noon. The state semifinals on Saturday would begin at 10 a.m. with the state championship slated for the same day at 2 p.m.