OBC was on the job decorating for the holidays over the weekend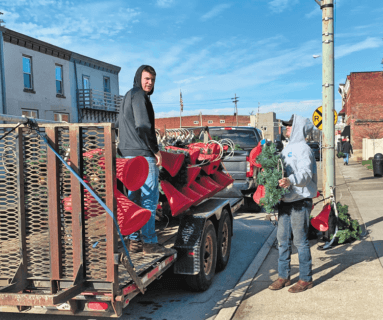 WANDA ENGLISH BURNETT PHOTO
The Osgood Beautification Committee (OBC) was getting their holiday decorations in place on Sunday, knowing the weather forecast wouldn't be good for later on in the week. "This is a great day for doing this," noted OBC President Bill Gloyd. He was on hand, along with Jerry Vollmer, Mandy Hughes and Steve Wilhoit to begin decorating the beautiful spruce tree donated by Roger Abplanalp.

The tree was placed in a stand crafted by Wilhoit and his crew and was erected on the property of MMH Osgood Primary Care on Buckeye Street.

"This year, the committee wanted to have a community event with the churches coming to sing Christmas songs," noted Gloyd. He said with the pandemic at high rates, that idea was scrapped and they decided to invite people to come as they wanted to bring an ornament to place on the tree. Next year the plan is to have a community event where there will be music and hot chocolate.

The OBC is growing by leaps and bounds and has new members to prove it. They have been creative this year and hope to improve on their ideas as soon possible. "We've got a great group now," noted Gloyd, who said he's in his 80's and says it's time to bring in younger people.

The OBC brought the new pumpkin display to town this year, and has many more plans as they move forward. Next year Vollmer will be the president for the group. Gloyd says he will still be a part of it and do whatever he can to promote the town that has already been spruced up thanks to a dedicated group of workers, a progressive town board, and money from the Gilmore and Golda Reynolds Foundation.