Officers justified in Batesville shooting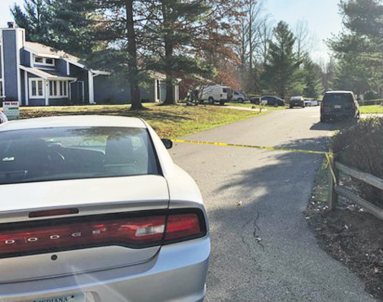 SUBMITTED PHOTO
While police officers take an oath to protect and serve, sometimes they find themselves on the wrong end of the situation as happened in Batesville on November 16, 2020, when they answered a 911 call for help.

According to an investigation by the Ripley County Prosecutor's Office, officers were justified when they shot and killed Joshua Evans, 33, at his home on Bridlewood Trace Road in Batesville. Officers were determined to have fired their weapons in a manner that was proper, according to court documents that were filed March 23 in Ripley County Superior Court.

Assistant Chief Blake Roope responded to the 911 call for help and noticed the residence's overhead garage door was up and it was dark inside. This was around 8 a.m. However, as he turned around, he saw the door closing and heard a male voice. The officer was able to get Evans' wife and three children out of the house. When asked about how many guns were in the garage, Evans' wife said, "A lot." She told officers that her husband had tested positive for COVID-19 and was very upset.

Evans fired a shot from inside the garage, striking the garage door frame. From this, shrapnel from the bullet hole struck Asst. Chief Roope in the left lower bicep.
The investigation revealed that several agencies responded to the Evans' residence that day along with Indiana State Police Emergency Response Team (ERT) members. A certified sniper with the Greensburg Police Department was on the roof of the home across the street from the Evans' residence. Officers estimated that Evans fired between 20-30 rounds during the approximate three hours he was barricaded inside his garage.

A member of the Indiana State Police Hostage Crisis Negotiator did talk with Evans with one phone call lasting 27 minutes. During this phone call Evans told police they would have to come in and shoot him. The detective heard gunshots while on the phone and could hear Evans reloading. He told police, "Take the shot or I'm going to". He then began a countdown.

Around 11:31 a.m. Evans opened the side garage door and walked out with a handgun in his right hand down at his side. He was advised to show his hands. Evans then raised the gun and started walking directly toward Master Trooper Eric Williams, ERT member. The officer later said he could see down the barrel of the gun. Three of the four ERT members fired their weapons at Evans, along with the sniper.

An ERT member started chest compressions and requested medical service. Evans was pronounced dead at Margaret Mary Hospital. An autopsy showed that Evans' cause of death was multiple rifle wounds of the torso and extremities.

Court records indicates that "the officers use of force was objectively reasonable in light of all known facts. The evidence supports two separate legal justification defenses that deadly force was appropriate in this instance." The fact that Evans pointed a firearm directly at an officer combined with his earlier threatening statements created reasonable belief that he intended to inflict serious bodily injury to the officers and/or commit a forcible felony.

"Further, the officers, who were acting in their official capacity, were in a place where they had a right and duty to be and while there, were placed in reasonable fear of death or serious bodily harm based on Evans' actions that day. Evans created an immediate and potentially deadly threat to the officers that justified the use of deadly force under two separate legal justifications," the document concluded.