On Memorial Day local family reflects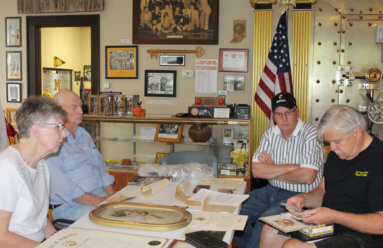 WANDA ENGLISH BURNETT PHOTO
All a family from the Milan area had left of their son were pictures and memories after a World War II disaster that was ultimately kept a secret for many years.
Recently Linda White Baurley of Milan, Bob White, Rising Sun and Gene White of Franklin, gathered at the Milan Museum to discuss what had happened to their brother, Pfc. Vernon Wayne White. Vernon was among the 28 that died from Indiana who were aboard the Leopoldville, which was torpedoed and sunk in the English Channel by the German U-Boat 486. Also meeting with them was PG Genthrup, well-known veteran advocate in the area. He was showing the family some of the medals their loved one should have received.
Christmas Eve 2019 will mark the 75th anniversary of the troopship disaster where 763 American soldiers died. Vernon's body was among the 493 that were never found. The Belgian troopship was transporting 2,235 soldiers from the 262nd and 264th Regiments 66th infantry division across the English Channel.
"I remember the day of his funeral," Gene noted, saying while he was young, he clearly remembered his father coming home from getting a haircut and the look on his grandmother's face. He said he has more memories of his uncle than his siblings because he's older. He said Pfc. Vernon White sent a letter saying, "Don't worry about me- I am fine." That was in November 1944, just a short time before his life would be taken by enemy fire.
But, they weren't informed immediately. According to information from the book Leopoldville: A Tragedy Too Long Secret, written by Allan Andrade, the family gained information they had been longing to know about.
A telegraph notice by Western Union was received by the family from Washington D.C. on March 7, 1945, saying, "The secretary of war issues you his deepest sympathy in the loss of your son, Pvt. First Class." It wasn't a very formal or well-written notice, Linda noted as the yellowed paper was still kept in their possession, along with other memorabilia and photos of their loved one. At the Normandy American Cemetery there is a Wall of the Missing listing 1,557 names of those whose bodies were never found in the liberation of France, according to Andrade. In written correspondence with the family he noted, "The names of 493 soldiers from the Leopoldville are engraved on the wall including your uncle." Now Pfc. Vernon White will be remembered. The body of Pfc. White was among 33 from his platoon that were never found.
Mr. Andrade contacted The Versailles Republican requesting a sketch of the ship be published with a little knowledge he had. He was looking for relatives he thought were in this area. He was right. They contacted the author/historian and together gave information that will help with Mr. Andrade's project he is hoping to have displayed in the National Infantry Museum in Columbus, Georgia. The museum is planning a 75th Battle of the Bulge exhibit that may include some research items from Andrade's collection. Andrade, who has already donated much of his research files to the National Infantry Museum archives, says he is 81-years-old and plans to donate all of his files eventually.
Linda thanked Andrade for his research and publication. She noted, "Although I wish my dad, Orville, and my grandparents had known how "Wayne" died." She said while the government was not helpful, it is good that her generation finally knows the truth about what happened to their loved one.
Gene told The Versailles Republican that when his uncle left for war, he said he (Vernon) had a feeling he wouldn't be coming home. In later years Gene had a French professor who was actually at the Leopoldville disaster and told him about all the bodies that were stacked up.
Robert (Bob) White, who now lives in Rising Sun and teaches history, said he remembered going with his grandmother on Memorial Day to Stringtown and then on to the Washington Baptist Cemetery in Elrod to decorate the graves.
The State of Indiana with House Resolution #26 memorialized the sinking of the USS Leopoldville on January 25, 2000.
The book, Leopoldville: A Tragedy Too Long Secret, is available from Amazon or Barnes & Noble websites.