Operation Roundup awards over $77,000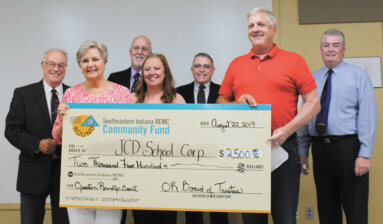 WANDA ENGLISH BURNETT PHOTO
Since the start of the Southeastern Indiana REMC Operation Roundup Program in 2011, over $375,000 has been put back into the community thanks to the generosity of REMC members rounding up their bills. "The most anyone will pay in a year's time is $6.00", noted Barry Lauber, manager of office operations.

Last week over $77,000 was given out to recipients from seven counties from the REMC's service territory. Lauber and General Manager Keith Mathews participated in the check giving event at the REMC Community Building in Osgood on August 22. The nine-member Operation Roundup Board of Trustees met July 9 to determine that these 35 grant applications met all the requirements.

Those receiving grants grants in the amount of $2,500 were: Beecher Presbyterian Church, for a community garden; Pregnancy Care Center of Southeast IN toward technology equipment for their new room; New Mercies Community Services, to purchase a freezer and refrigerator; Milton Fire Dept. to purchase fire pagers; Girls Inc. of Jefferson County to purchase a generator; Canaan Community Academy to expand their school gardening program; Canaan Vol. Fire Dept. to replace HVAC equipment; Jefferson Co. 4-H Fair Board to upgrade fair booth; Pure Education Initiative for Sexual Risk Advocacy program; Jennings Co. Council on Domestic Violence to purchase new HVAC equipment; Dupont Lancaster Twp. Fire Dept. to purchase turnout gear; Bear Branch Fire Dept. to get lighting in truck bays; Good News Club Ohio County to support children's ministry; JCD School Corp. to upgrade SRO radio equipment; St. Louis Catholic School to purchase indoor Playscape equipment; Tyson Community Advancement Foundation for fitness room equipment; Main Street Versailles to purchase trash cans for the square; Ripley County Parks and Recreation to purchase grandstand speakers and tables; Switzerland County EMS for ALS equipment for ambulance; and Jeff Craig Fire and Rescue for equipment for second fire station.

Others receiving money included: Ginn Farms, $1,870 for materials to education kids on agriculture; Volunteers in Medicine, $1,000 for diagnostic tests for uninsured; Lawrenceburg Public Library, $1,764 for Launchpads; Dillsboro Community Partnership $2,290 for freezer equipment for Heritage Festival; Special Olympics of Indiana, $2,459 for portable AV projector; Oldenburg Academy $2,310 for equipment for Innovation Room; Dillsboro Arts, Inc. $2,000 to advertise events at The Porch; Big Brothers Big Sisters of SE IN, $2,000 for school based mentoring program; Jennings Co. Coordinating Council, $2,000 for Christmas boxes, toys; Safe Passage, $1,838 for tent and table for events; Versailles Fire Dept. $1,860 for protective gloves; Milan Aquatics, $1,290 for swim equipment; Osgood Kiwanis, $2,000 for BackPack Food Program; Youth Pacer Athletic Corp., $1,500 to purchase AED; IN Farm Bureau of Switzerland Co. Ag in the Classroom $1,000 for materials for agricultural education.

A large number of customers of Southeastern REMC have contribute to this worthy cause. If you are not contributing and would like to, you can contact your REMC and find out how rounding up a few cents on the dollar each month can help a lot of people. If you are an organization wanting to apply for a grant, you can go online to SEIREMC website for an application.

"It's about making our communities a better place to live," concluded Lauber.