Osgood Lion's Club Park to get facelift, interactive sculpture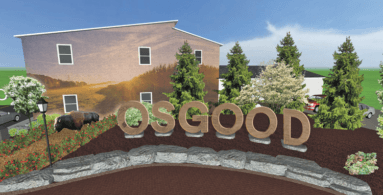 SUBMITTED PHOTO
Fundraising efforts underway for professional muralist
The Lion's Club Park on Osgood's Main Street will undergo a three-phase transformation this summer at the hands of a landscaper and the craftsmen behind Iron Timbers. The project will introduce a modern green space to the downtown area and offer a 40-feet long, interactive sculpture for the park's visitors and passersby to enjoy.

The Gilmore and Golda Reynolds Foundation is backing a majority of the first three phases of the project by covering the cost of materials. Dustin, Caleb and their father, Gary Payne, are each donating their time to craft the six-feet-wide by six-feet-tall pieces of the sculpture. Each piece of the sculpture will be a letter in the town's name – Osgood. The letters, depicted with steel frames, teakwood and hammered copper, will hold carvings of iconic and historical Osgood landmarks. Caleb, the metal worker in the family, described the materials selected for the project with excitement because of how they will age in the elements. "Over time, the copper will patina, you know, when copper changes from orange to green, which will give it a new look as the years go by," explained Caleb.

This process will give visitors a different experience as they continue to come back to the central green space in Osgood.

The project, planned to start in mid-June with fresh landscaping, still needs financial support for its final piece.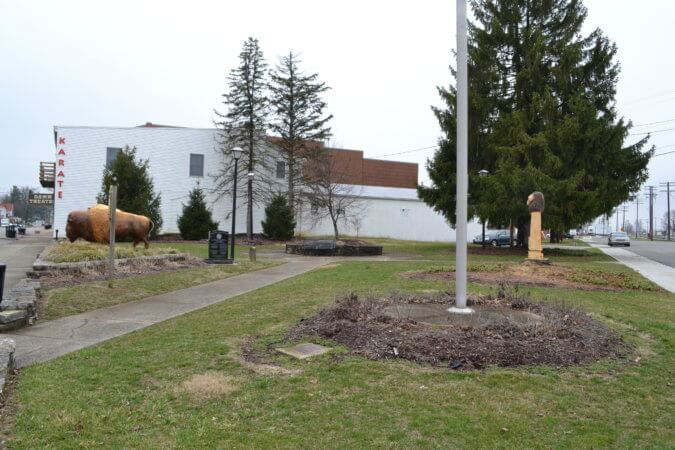 Caleb and Dustin Payne of Iron Timbers, said the finishing touch for this mini-park revival will be a mural on the side of the building housing Taylor's Tae Kwon Do Studio at the south end of the park. The Paynes are planning to hire Robert Dafford, the professional muralist known for his work on the levee wall in Port Smith, Ohio.

The Paynes are working with the Osgood Beautification Commission and the town's revitalization committee to reach out to the community for this last bit of support. They need to fundraise $50,000 to pay for the mural, which will pull the visual aesthetic of the park outside its footprint. Individuals can donate $100 and have their name included on one of the bricks to be laid in the park.

"We have different layers for the fundraising. There's silver, gold and platinum," said Dustin. "So if you donated more than $100, your name will be on a plaque and you'll get a brick too." Last week, a GoFundMe was launched to kick-off the final round of fundraising for the project. The fundraiser page can be found through the Iron Timbers Facebook Page or at https://gofund.me/3fcf2993. The Paynes are hoping to meet their $50,000 goal by June 30. The goal unveiling date for the finished park renovations is Bricktoberfest weekend this fall. Dustin and Caleb said the only part of the project that may not be done by then is the mural because they haven't nailed down final details with the muralist yet.