Osgood man receives Purple Heart plaque, quilt of valor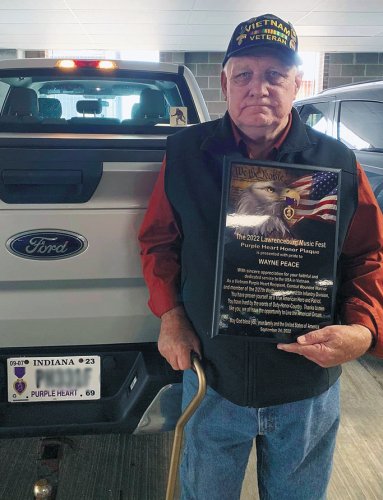 SUBMITTED PHOTO
Wayne Peace of Osgood, was among those honored on Saturday, September 24 at the Lawrenceburg Fall Music Festival. The Annual Veteran's Award was presented at the Civic Park with two others – Richard Craig and Greg Feldmann, receiving a Purple Heart Plaque and Quilt of Valor by the Rivertown Quilters, along with Peace.
When Peace received the recent honor, it was said, "He is a true American hero and his blood is still in that Vietnamese soil. He has proven himself as a Combat Wounded Warrior and because of men like him, we all have the opportunity to 'live the American dream'.

Living in Danville, Kentucky, where he was born, Peace attended the Crab Orchard Kentucky Elementary School until the fourth grade when his family moved to Osgood, where he continued to live now.

Peace's military call would prove him a patriot worthy of being highly decorated. He received the National Defense Service Medal, Vietnam Service Medal, Vietnam Campaign Medal, Army Commendation Medal with "V" for valor; three Bronze Stars with "V" for Valor; two Purple Hearts, Vietnam Gallantry Cross with Palm, Presidential Unit Citation, Meritorious Unit Citation, Combat Infantryman's Badge (CIB), Airborne Wings and Expert Badge for the M-16.

Serving in the United States Army, he entered service on February 2, 1968 and went to basic training at Ft. Benning, GA. His AIT was at Fr. Gordon, GA, and he also took his airborne training there.

From August of 1968 until August of 1969, Peace was deployed to Vietnam and served at Cu Chi, South Vietnam with the 25th Infantry Division and "A" Company of the 2/27th Infantry, known as the Wolfhounds.

Peace received two Purple Hearts for being wounded in combat against the Viet Cong. His first was shrapnel wounds suffered from a grenade during a battle in the Hobo Woods area near Cu Chi. The second one was shrapnel wounds he suffered when a fellow soldier stepped on a booby trap. He was involved in heavy hand-to-hand combat.

When he returned to the States, he was assigned to Ft. Dix, New Jersey. He was discharged there on February 2, 1970, as a Staff Sergeant (E-6). He earned the unbelievable high rank due to his bravery in Vietnam. At Ft. Dix, they didn't have a Lieutenant, so Peace was the Platoon Sergeant, running the show.

Such a short time, but a world of experience and knowledge took place from 1968 to 1970 when Peace was home with scars from the war.

He went on to marry the love of his life, Barbara Mulford on January 15, 1972 and they had two daughters, Becky (Jason Horn) and Holley (Patrick Rose). He has ten grandsons: Stephan, Cory, Gage, Branson, Riley, Jace, Phoenix, Keith Dustin (Faith) and Williams. There are two great-grandsons, Landon and Korbin. His wife passed away on May 13, 2019.

Peace is known to many people in Ripley County as a person with great understanding and knowledge on many subjects. He managed the Osgood Co-Op for over 25 years where he was an expert in chemicals. He went on to work with the Emergency Management Agency, where he brought a lifetime of information to the table.

He is a member of the Osgood American Legion Post 267, Disabled American Veterans (DAV), Military Order of the Purple Heart and Life Member of the Southeastern Indiana Vietnam Veterans of America, Lary D. Fogle Chapter 71.

Peace is the definition of a true American Patriot. He lives by the words: Duty-Honor-Country.