Osgood resident runs Boston Marathon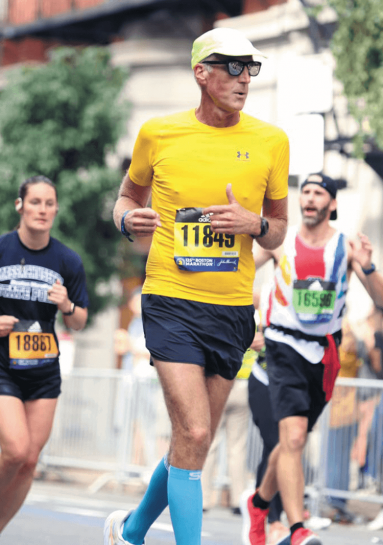 SUBMITTED PHOTO
Tracy McKittrick, Staff Writer
Scot Cunningham of Osgood, recently ran in the 125th running of the Boston Marathon. He did not start running until he was 50-years-old and has been running for the last 10 years, but he is deeply proud of the strides he has made, both in the Boston Marathon and in other races.

Cunningham was inspired to start running after watching "The Biggest Loser" on television. "I always thought I could never be a runner and I was too old to start," he explains. "But, when I saw all of these severely overweight people doing all that running, I thought, 'if they can do it, so can I." So, I put on some shoes and shorts and started. I learned some tough lessons. I went out too hard and hurt myself a few times. So, I started over and built up very slowly. That is the key. Don't try to do too much at once."

Cunningham does not consider himself a serious marathon runner. "Boston was only my fourth marathon," he said. "My first was the Flying Pig back in 2013 and I never really intended to run another. But, as I approached my 60th birthday in 2021, I started looking at the Boston qualifying times. Your qualifying time is based on your age on the day of the race. The current qualifying time for a 60-year-old is 3 hours, 50 minutes and I thought I might be able to beat that. That was an opportunity I couldn't pass up." After deciding to pursue Boston, Cunningham set his sights on qualifying.

"I signed up for the Indianapolis Monumental Marathon in 2019," Cunningham states. "It is a flat, fast course and the day of the race it was 28 degrees, which is ideal for me…I ended up running it in 3 hours 31 minutes, which was more than enough to get me into Boston."

After qualifying for Boston, Cunningham shifted his focus again, this time to prepare for the grueling race. "I used a 12-week plan from Hal Higdon that is geared toward Boston. It consisted of easy runs, speed work, hills, and long runs on the weekends. The longest runs were two 20-milers near the end of the plan. The plan ended with a 2-week taper to rest up before the race," he says. "Marathon training plans are normally 16 or 18 weeks, but, since I had run a marathon earlier in the year, I had a lot of base mileage built up and felt able to use the shorter 12-week plan."

When he got to Boston, the race was a great experience for several reasons. "My wife (Sheri) made the race very special for me," Cunningham states. "She had t-shirts made with my bib number, can koozies, and a giant banner. She walked me out to the buses in the morning and greeting me at the end with a cup of coffee. She supported me every step of the way through my training and the races that led up to this. I am one lucky guy. The support from family, friends, and community leading up to the race was overwhelming. When things got rough in the last half, they pulled me through to the end."

Another fun part of the Boston Marathon experience was the bus ride to the start. "The Boston Marathon starts 26 miles west of Boston in a little town called Hopkinton," Cunningham says. "You board a school bus in downtown Boston and ride to Hopkinton and then run back. Our bus had a unique experience. Our bus driver got lost. He ended up taking some back-way in. The problem was that many roads were closed due to the race. Our driver and several buses following him ran into a roadblock and they would not let us through. We were given a choice: stay on the bus while he tried to find the right way in or get off and walk a mile and a half down a back road into Hopkinton. We all got off and walked. Although none of us wanted the extra distance on our feet, we got to know each other better and it turned out to be a really fun experience."

The atmosphere of the race itself, Cunningham says, was electric. "[It was] the first in-person Boston run since April 2019," he elaborates. "Crowds lined the route start to finish. There were a few points where the cheers were deafening. The best crowds were at Wellesley College, Boston College…Running down that final stretch on Boylston Street was unlike anything I've ever done in my life. The crowds lined both sides of the street and the cheering was deafening…I slowed down just to soak it all in as much as I could before it was over."

Although, at 4 hours and 28 minutes, this was Cunningham's worst marathon time, he is not bothered by that fact. "I wasn't in this one to get any particular time. I just wanted to finish," he says. He adds, "Factors that led to the poor time were going out too hard, warm temperature, high humidity, and the hills. Oh the hills. The first half of the race went well, but then I got dehydrated and couldn't drink fast enough to recover, so the last half was very slow. I just decided I was going to enjoy the Boston experience!"

To anyone wanting to take up running, Cunningham has some good pieces of advice. "The great news is it is never too late to start. I didn't start until I was 50. I talked to a lot of people who think they can't start late in life. You definitely can," he says.

He also advocates talking to your doctor about any new exercise you may start. "As you build mileage, learn more about diet and hydration. Google is your friend. Everyone is different. You need to find out what works for you," he explains.

When it comes to finding the right equipment and shoes, Cunningham recommends going to a store specifically for runners. Finding running programs and establishing a good routine is another important part of taking up running. Local races and 5Ks can help someone on their running journey. "I run several 5Ks a year," Cunningham says. "There are lots of them around our area. You can find listings at stuartroadracing.com and indianatiming.com. I've also run a few 10Ks and half marathons. For those you usually need to look around larger areas like Cincinnati or Indianapolis."

No matter how serious or unserious of a runner you are, the most important thing is to applaud yourself for taking initiative for your own health and to have fun with it!