Osgood woman shares addiction journey: 10 years, 13 relapses – 1 hope in God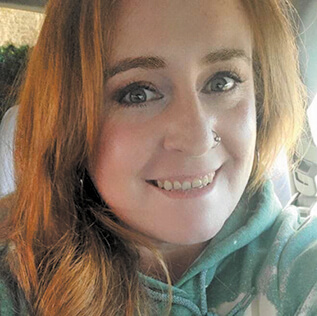 SUBMITTED PHOTO
From ten years of multiple relapses to redemption, Josie Carr, 37, of Osgood, has a story that gives hope to addicts who are struggling.
When Josie says she's had multiple relapses, she's not kidding. She had gone to rehabilitation 13 times, and always relapsed. "I was in a cycle of jail, rehab, and relapse. No matter how hard I would try, I would always end up relapsing. The last relapse was my lowest," Josie shared in a quarterly magazine recently for Cross Road, a Christian Recovery Center for Women.
Cross Road changed Josie's life. At her lowest point last summer, Josie had failed a drug test for probation in Ripley County and new charges were levied against her. "I was planning on running from police, but God had other plans," she noted. She said she was arrested and hopeless. "That day, I went back to my cell and cried out to God and completely surrendered my life to Him. Something inside of me changed that day," she shared.
She said God did not fail her and even with a habitual charge that carried 10 years in prison, she was extended one last opportunity. This was to complete 10 months at Cross Road successfully and two years' probation with no problems and she could have her life back. No prison time. "Honestly, it saved my life," she told The Versailles Republican.
Josie went to Cross Road in Richmond, where she learned a whole new way of living. True living. She said for the first four months she had intense life skills classes with Christ centered Bible Studies. She learned how to cope with life instead of popping pills or using a needle. She found her shame and guilt was completely forgiven and reconciliation was possible. All of the roadblocks in her life were removed through a power higher than mankind.
Josie went from being hooked on pain medication from excessive use (first perfectly prescribed by a medical doctor), to using heroin, methamphetamines, and fentanyl, to knowing that God is the ultimate answer to any of life's chaos. She found that perfect peace that only comes from a relationship with Jesus Christ.
Her journey continues and isn't without pain from the past. She noted that she was recently diagnosed with Hepatitis C – contracted through needle use, has damage to her liver and other physical problems she will always deal with.
She didn't start out as wanting to be an addict. No one does. She saw her father, who was an alcoholic, and didn't want any part of addiction. She describes herself as a good kid who didn't get into trouble. After her first son was born, she realized the euphoria from opiates. She says in no way does she blame anyone but herself for the addiction. "It wasn't the doctor's fault, it was mine." She didn't blame her mom, Sheila Flanigan, who would call the police to save her life. She didn't blame the police nor probation officers. "You have to own it," she noted.
Josie has forfeited relationships and opportunities due to addiction. Some things will never be recovered, but there's so much more. Once she was interested in taking over her mother's beauty shop, The Design Team, in Osgood. And that could still be in the plans. For now, she is concentrating on helping herself by staying clean, and wants to become a recovery coach, and maybe a therapist someday to help others.
She is proud of her two sons – Hayden, 18 and Heath 12. She says she knows she wasn't the best mother but does love them deeply. "One of my deepest regrets is not being the mom they deserved. She noted, "God is doing for me what I couldn't do for myself." Her life is changing one day at a time.
The Christ-centered rehab has made all the difference for Josie. She says she's a different person and doesn't want to go back to her old life of drugs, destruction and death.
What Josie wants addicts to know is this: "There is another chance at life – a new life." The hardest thing was perhaps forgiving herself and knowing that you have to live for today. The reality is that "relapse is one choice away," she concluded.