Osgood woman wins package worth $2.3M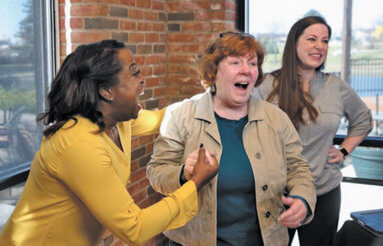 HGTV PHOTO
What are the odds of winning a dream home in the mountains of Montana? One in 135 million and that one is Beverly Fulkerson of Osgood, who won the HGTV Dream Home Giveaway 2019. This package is valued at over $2.3M! This beautiful home is located in Whitefish, Montana. The package also included a 2019 Honda Pilot and $250,000 from Rocket Mortgage by Quicken Loans.
Fulkerson was given the news in Cincinnati where she thought she was going to celebrate a promotion for her daughter. The Osgood woman has two daughters and is a grandmother of three.
According to information from HGTV, Fulkerson's name was randomly drawn and she was told last week. People who know her say she is a "sweet, quiet, humble Christian lady who is just overwhelmed by this news!" She said her "mind went blank" when Tiffany Brooks of HGTV stepped forward to announce the news. She and her husband will get to travel to Montana to see the beautiful home for the first time in the next few weeks.
"I entered knowing that I would never win," she said, but kept entering anyway two times a day during the sweepstakes period.
Fulkerson has lived in nine different states according to HGTV, but has never traveled to Montana, where this home is located in the mountains. They went on to say the incredible mountainside views first caught Beverly's attention. She said, "I would love to be sitting on that porch – and in that hot tub!"
Viewers can witness her reaction to the ambush and then the home itself by watching the HGTV Dream Home 2019 Giveaway Special premiering Friday, May 24, at 1 p.m. eastern time on HGTV.
Friends of Fulkerson from the Quilter's Nook in Versailles, say it couldn't have happened to a nicer person. They are happy for their friend, who they know will love the mountain home.