Over $680k granted at annual Tyson event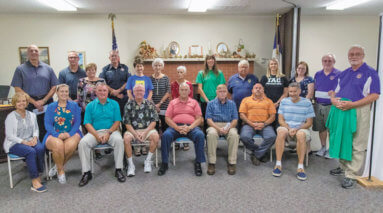 JARED ROGERS PHOTO
Ten organizations benefitting the Town of Versailles and its community gathered at the Tyson Fellowship Hall in Versailles for the town's annual Tyson birthday celebration on Saturday, September 14. By the end of the evening, all grant requests on the ballot were approved, totaling $680,554 in disbursements for the year 2019.

"Uncle" Jim Tyson was born on September 14, 1856, and in accordance with the trust fund he formed to support his hometown, a celebration is held on that date every year. After amassing a personal fortune through investing in the up-and-coming Walgreens business, Tyson set up his namesake fund in 1930. Since that time, more than $21.5 million dollars has been granted to local non-profit organizations that promote religious, literary, and social advancement in Versailles and lessen the tax burden on its citizens.

"It's quite a legacy and something we should all be very proud of," said Bob Meyer, current president of the board of trustees for the fund. The board, along with citizens of Versailles in attendance to vote at the celebration, approved the following grant requests:

Child Evangelism Fellowship – $1,000 for Good News Club supplies and for the National Day of Prayer held each spring; Ripley County Historical Society – $4,100 to help restore the log cabin located behind the museum; Main Street Versailles – $4,500 to help with operating costs throughout the year along with the upcoming Holiday Affair on the Square in December; South Ripley Community School Corporation – $20,000 to use toward an electronic door access system at the elementary school; Tyson Activity Center – $46,000 for operating costs, lighting upgrades, and a lift station for water backup; Tyson Library – $158,954 for operating costs and programming for children, young adults, and adults; Versailles Fire & Rescue – $25,000 to help replace the Jaws of Life hydraulic tool and for repairs on fire trucks; Versailles Lions Club – $10,000 for the annual Versailles Pumpkin Show; Town of Versailles – $390,000 for operating costs including sewer bond payment, equipment repairs and upgrades, and road paving; Versailles American Legion – $21,000 to use toward paying off the mortgage on the purchase of the old Town Hall building.

The Tyson Fund is worth a little over $19 million today. Since being founded with Walgreens stock, the fund currently holds about 10,000 shares in Walgreens and has diversified the remainder of its portfolio through a partnership with JP Morgan.