OVFD new engine is home and on duty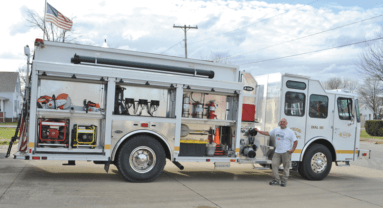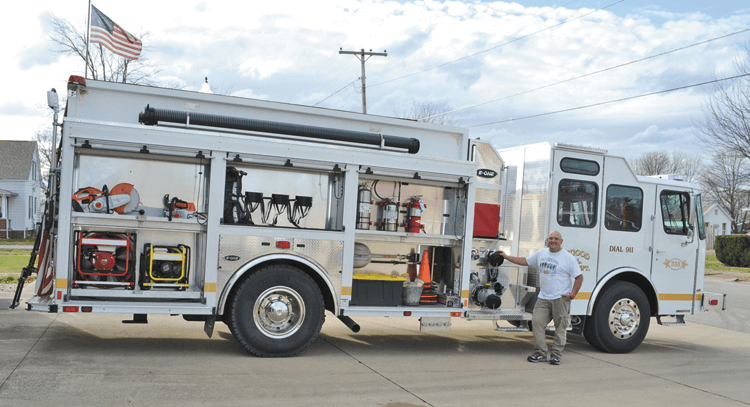 TALI CROWE PHOTO
The Osgood Volunteer Fire Department is responding to calls with a new piece of apparatus after years of planning. The new engine saw three runs in its first week with OVFD at the end of October.

"One thing we've always struggled with in the past is scene lighting," said OVFD Chief Kyle Negangard, when detailing the new features on the new Engine 333.
There are bright battery-powered lights on all sides of the truck, which can light up a scene making it easier and safer for the firefighters to take care of business when on a call, whether they're responding to a fire or a car accident. Negangard said the benefit of the scene lights had already been experienced by his team.
The scene lights aren't the only new feature for the new engine. On either side of the truck there are storage boxes, which the OVFD truck committee was able to customize to some of their needs with mounts for air tanks, and slide-out panels to hold tools that might normally get lost in a toolbox. Then in the back they have an enclosed space for different size ladders.

"This thing has so much storage, it's great. They made it so you can use every bit of space possible for different tools and equipment," said Negangard.

With the former Engine 333, some of the firefighters would have to sit outside the cab while enroute. Now, all are able to fit inside the cab, making it safer for them. The truck also includes a battery-powered extrication tool for use at car accidents. Negangard said the truck has a three and a quarter inch clearance to the garage door at their station. When they first tried to pull the engine in, it was too tall. He said with the water tank full at 1,030 gallons and the truck fully loaded with their small tools gave them the wiggle room they needed to pull inside with the angle of their driveway.

"We did all the math and an engineer looked the plans over so we knew it was supposed to fit, but that was a little scary," laughed Negangard, recalling the experience.

The new engine now helping save people and property in and around Osgood is the product of several years of work by members of the OVFD. The planning started back in 2015 under the former chief, M. Shawn Negangard, Kyle's father. Shawn started and headed the truck committee. Their goal was to design and put a funding plan in place to replace their engine. After careful consideration and hours of design with two different manufactures they chose to go with an E-One eMAX Rescue Pumper Typhoon Chassis with 6-man cab and 1500 gallon per minute pump, A product with a price tag of approximately $500,000.

Kyle and Shawn flew down to E-One in Florida for the engine's pre-build in September last year, Shawn passed away last October.

"He never got to see it finished, but he's still who got it all started for us with this one," said Kyle of his father. "It means a lot to me. I was glad to be part of it because of him." The engine now supports the OVFD roster of 18, many of which work out of town during the day. "We always need more help," said Kyle. "I think most of the rural departments are in that same boat."

Kyle, who watched his dad rush out the door throughout his childhood, has firefighting in his blood. He talks about those memories, seeing his dad leave with a humble pride in his voice, like it was so natural for his dad to go off and risk life and limb to help others, something that he himself does now, is something anyone would do.

"It is so gratifying to be able to go and help someone," said Kyle, of serving Osgood and Ripley County. "It's not easy, a lot of people can't handle the training, but what we do, the service we provide, somebody's got to do it."

The department received a grant for $250,000 from the Gilmore and Golda Reynolds Foundation to help fund the purchase. They put up $50,000 from the department's funds and the town of Osgood is helping OVFD to pay an annual lease over the next 10 years to cover the rest—OVFD will pay $15,000 per year and the town will pay $10,000 per year. Negangard said they made their first payment in September.

OVFD's usual fundraising efforts have been hampered due to this year's Ripley County 4-H Fair public events being canceled. To support the department or to donate to their Christmas at the Firehouse, donations can be mailed to the department at 247 W. Beech St., Osgood, IN 47037.