OVFD shares good news with community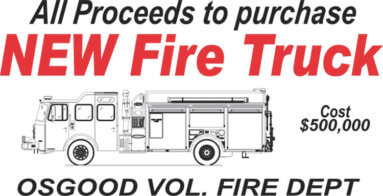 SUBMITTED PHOTO
Members of the Osgood Volunteer Fire Department are excited about getting a new fire truck. They got a big boost recently when they received the news that the Gilmore & Golda Reynolds Foundation awarded the department $250,000 to help purchase the truck. That is exactly half of the purchase price, according to Kyle Negangard, who is the chief of the department.

The town of Osgood has also partnered with the department and has committed $10,000 a year to pay towards the balance. "The OVFD will also continue to fund raise to generate money to make yearly payments until the new truck is paid in full," noted Negangard.

As they strive to meet the goal of paying off the remaining portion of the truck, you will see them having various fundraisers. The department asks the community to also join with them in helping with the purchase of the truck by attending and supporting their fundraising efforts.

"We will keep everyone updated as this truck is being built over the next year," Negangard said. He also thanked the Gilmore & Golda Reynolds Foundation and the Town of Osgood for their support of the department.

Osgood Volunteer Fire Department, as other local fire departments, is all volunteer. They operate on grants, money from donors, and fundraising efforts. Anyone interested in becoming a volunteer with the department can attend a meeting on Monday nights at 7:00 p.m. at the fire station in Osgood. If you would like to send a donation, you can make a check payable to: OVFD, 247 W. Beech Street, Osgood, IN 47037.