People plus dogs makes perfect night at St. Andrews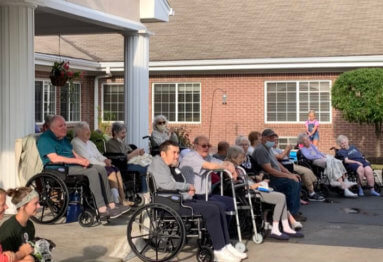 Tracy Mckittrick photo
The rain cleared just in time last Thursday evening for the first annual dog show at the St. Andrews Health Campus in Batesville, which is a retirement and assisted living facility. The show took place on National Dog Day. Many people across multiple age groups came out to show off their dogs. The event was a fun, casual opportunity for St. Andrews residents to interact with other members of the community and enjoy the company of many adorable dogs who were more than ready to display their talents, costumes, and simple cuteness.

Twenty dogs were entered in the competition, ranging from enormous Labradors to a tiny Chihuahua named Peanut, who – with her brown-and-green dress, blonde braids, and red cap- was well-dressed for Freuden Fest.

St. Andrews residents George, Joyce, Larry and Norma judged the wide selection of dogs and decided on three lovable winners. Best in Show was awarded to Bentley, whose owner is Amy Williams. Rudy, a golden retriever, won Best Costume for his natty navy blue lawyer's suit, complete with a bright red tie and a Moore Law logo sewn on the back. He is owned by Matt Moore. Rossi, owned by Molly Weigel, proved victorious in the Best Trick category for his ability to easily retrieve treats.

Batesville Mayor Mike Bettice was in attendance at the show. Also present at St. Andrews were representatives from the Ripley County Humane Society, who handed out pamphlets to attendees and showed off Patsy and Bailey, both of whom are currently up for adoption. Proceeds from the show went to the Ripley County Humane Society.

Many St. Andrews residents were lined up to watch and paid close attention, clapping for which dogs they liked, occasionally making quips about their preferences, and greatly enjoying the show. Numerous studies who that dogs and other pets can help the elderly feel less lonely, reduce their risk for heart disease, and keep their brains sharp by establishing an emotional connection between themselves and an animal. All these facts prove just how good and valuable this show is to everyone who participated.

The first annual St. Andrews dog show was a wonderful opportunity to provide joy to the facility's residents and unite the community around something people universally love: dogs. Hopefully this show will continue to be a heartwarming success for years to come.