Perseverance lands Linkel at NCAA D1 Ohio U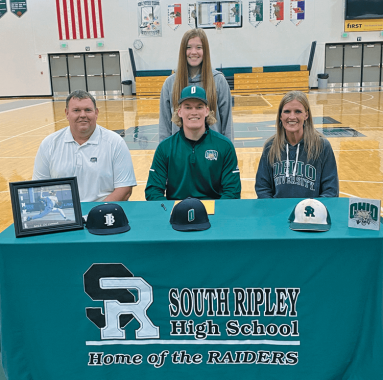 SUBMITTED PHOTO
Brady Linkel suffered through two meniscus injuries that put him on the shelf his sophomore season and a comeback to the high school baseball ranks his junior campaign was ruined by COVID-19. Such circumstances perhaps would be too much to bear for the average student-athlete.

But Linkel, a senior at South Ripley, isn't average by any means. His ability to persevere through a grueling 13-month period filled with rehab and uncertainty and return to the game he loves most is just one example of his toughness and the sacrifice he has made in order to make his baseball dreams come true. That drive had an exclamation mark put next to it this past Wednesday with family, friends and coaches present as Linkel signed his national letter of intent to play NCAA Division I baseball at Ohio University.

Linkel, who signed his letter at the high school gym on Wednesday morning, becomes just the third baseball player in school history to commit to an NCAA Division I program. He is the first since 2007 when Michael Fear signed his letter of intent to play at Morehead State University.

"I didn't think this day would come," Linkel said on Wednesday. "But I've worked so hard lately and throughout my high school career and when I was younger. I feel like I've earned this. It starts though with the family, friends and community supporting me but there is also a part I have had to play. If you don't work hard and put your mind to it, you can't really do anything."

While his ability with a bat in his hands would be enough to get him to some level of college baseball, it's Linkel's ability as a pitcher that separates him and allows him the opportunity to compete at the Division I level. High school wise, Linkel was 3-1 with 52 strikeouts and a 0.95 earned run average his freshman season including tossing a perfect game, but the rest of his body of work lies within the travel ball circuit after his 13 months of rehab, where he has developed himself as one of the state's top prospects as a member of the Indiana Bulls organization.

The Bulls, whose president is Tom Linkmeyer, a 1980 graduate of South Ripley and a former sixth round draft pick of the Toronto Blue Jays, have been a mainstay as one of the elite travel teams in the country. For the last handful of years, Linkel has been part of that process, which includes this past summer where he saw his fastball reach a velocity of 94 miles per hour and his secondary pitches improve to greater heights.

As a member of the everyday rotation for the Bulls, Linkel and the team soared, which includes winning the GEICO Baseball City Series this past August in Glendale, Wisc. In a relief stint on the mound in the series, Linkel appeared on ESPNU, pitching a perfect inning in front of a national television audience in the championship game.

"So many times I have heard Brady say that he doesn't know where he would be without the Indiana Bulls," said Linkmeyer who attended Wednesday's signing. "But I don't know where the Indiana Bulls would be without kids like Brady. It has been a pleasure to see this young man come up through our program and develop into the person and player that he is."

As for the team Linkel will join up with for the 2021-2022 season, the Ohio Bobcats ended a shortened 2020 spring with just a 3-12 record and were 20-34 in 2019 with a 12-14 mark in the Mid-American Conference, one of the toughest mid-major conferences in college baseball. The team, under ninth-year Rob Smith, has been in a rebuilding process as of late after winning two MAC titles and appearing in the NCAA Championship regional round on two occasions.

Linkel verbally committed to the school a year ago this month after taking the recruiting process slowly and visiting a few other schools who had made offers to the then junior. In the end, Ohio felt like a home away from home and the decision eventually was a no-brainer.

"A lot of people told me during the recruiting process that when you step on a campus you will know it's home," Linkel said of the process. "When I stepped on Ohio University's campus I knew it was home and when I got in the car to leave I told mom and dad this is home and this is what I want to do. We visited some other schools but that whole time I knew Ohio was home."

Linkel has the opportunity to speed up Ohio's rebuilding process and become an important piece of the pitching staff. But right now that chance is on the back burner as the senior makes one final push to fine tune his skills and apply it to what will officially be his return to high school baseball.

South Ripley is expected to be one of the top teams in the area and will have the opportunity to make a deep run in the state tournament this spring under head coach Steve Franklin. Linkel, alongside Bryce Franklin who signed with IU Southeast last week, will form a formidable 1-2 punch at the front of the pitching rotation and Linkel's mindset towards the season and what he needs to do to get ahead of the game at the college level, will only add to that potential for success.

"I just have to continue to keep working," Linkel noted. "Right now I know I'll be coming in as an underclassman so my focus is on getting my fastball up to the mid-90s this spring and definitely by my freshman year. I think I can be a weekend starter and be a Friday night guy eventually. Obviously the goal is to be the best guy but I'm going to have to work for it."

Linkel is the son of Scott and Amy Linkel and resides in Cross Plains with his parents and sister Brionna, a sophomore at South Ripley. He plans to major in business with aspirations to one day run his own real estate group.