Pets come to Osgood Library to make a great afternoon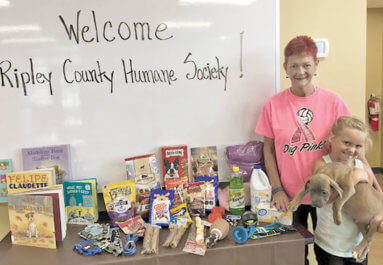 SUBMITTED PHOTO
Pairing kids with puppies is a fun event that was recently experienced at the Osgood Public Library. This was their annual "Dogs In The Library Storytime" with the furry creatures in attendance.

According to information from Peggy Manifold, the event was held last week with the children enjoying their time together with the puppies. Janet Orr, manager of the Ripley County Humane Society shelter, was in attendance to answer questions of the children who have been reading about animals and now have the opportunity to see and touch them. She also offered advice on how to care for pets at home.

Patrons of the library had brought in donations of various items throughout the summer for the no-kill shelter. The shelter receives no tax dollars, and relys solely on donations, grants, memorials and adoption fees.

When you adopt a pet from the shelter, Orr says they have all their shots, are spayed or neutered, and are chipped. The shelter recently started a GoFundMe page on Facebook for anyone interested in donating to the cause. The shelter is always in need of volunteers. "The kids were surprised and excited to learn that they, too, can volunteer at the shelter as long as they are accompanied by an adult," noted Manifold.

Having the animals from the shelter at the library brought about much attention to the many beautiful pets that are just waiting for adoption. The shelter is located between Osgood and Versailles off US 421. (1202 W. County Rd. 150 N., Osgood, IN 47037) They can be reached by phone at 812-689-3773. Or email rchumane@netzero.com. They are open from 11 a.m. to 4 p.m. daily. The humane society's website says that dogs and cats of all breeds and sizes are anxiously awaiting a forever home.

The patrons of the Osgood Library decided to give through donations of products the animals will need while waiting for their permanent home. You can also give monetary donations of checks, money orders, or online through Paypal. You can have a percentage of your Kroger purchase donated to the shelter or designate the Ripley County Humane Society as your memorial of preference. Every donation counts and is put to good use to house and care for animals.