Pohlman goes off for career night, Batesville tames Lions 48-14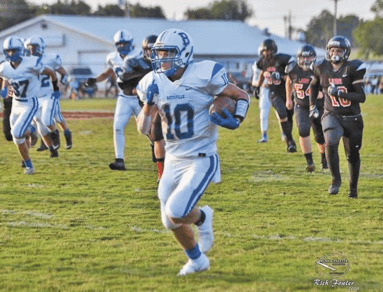 Photo by Rich Fowler
Batesville knew its running game would be a major strength this season but Austin Pohlman showed just how strong it could be on Friday night, racking up six scores and over 300 rushing yards as the Bulldogs dominated Rushville 48-14 on the road.

The game was never in question for Batesville who quickly built up a 14-0 lead in the first quarter and tacked on 20 points in the second quarter to lead 34-8 at halftime. The Bulldogs added 14 in the second half to pad their lead and cruise to a second win in the Eastern Indiana Athletic Conference.

Batesville ran just 34 plays but racked up 390 yards of total offense and 16 first downs. Of the 390, Pohlman accounted for 323 of those yards, all of which were on the ground on 21 carries. The senior averaged 15.4 yards per carry with his longest run being 54 yards that resulted in one of his six scores.

Travis Lecher threw for one touchdown to Trey Peters and was 3-of-6 passing for 61 yards. His top target was Kurt Siefert who had 58 yards on two receptions. Braiden Foster was 6-for-7 on extra points.

Seniors Ben Schebler and Jeremiah Lemmel spearheaded the defensive effort with 16 tackles and 14 tackles respectively. Chase Hamilton had two tackles for a loss and Vonley Hund recorded a sack.

Batesville (3-1, 2-0 EIAC) now sets its sights on Friday night's EIAC rivalary clash at Class 4A No. 6 East Central. The Trojans thumped Franklin County 36-12 on last Friday.