Police say speeding is factor in fatal crash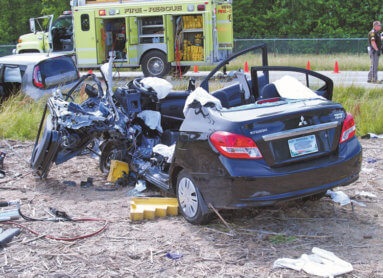 PHOTO COURTESY OF VERSAILLES FIRE/RESCUE
The Versailles Volunteer Fire Department was called out by 911 dispatchers on June 14 to a crash with entrapment. According to Trooper Andrew Garrett of the Indiana State Police – Versailles Post, a 2016 Kia Soul and a 2019 Mitsubishi Mirage were crashed in the east ditch of US 421 near Rexville.
Trooper Garrett said the crash occurred around 3:30 p.m. on US 421 south of County Road 1050 South. A Kia Soul was being driven by Shannon Hubbard, 50, of Pekin, IN. As she attempted to pass another vehicle in the southbound lane, a Mitsubishi Mirage, driven by Henry Finney, 21, of Madison, was traveling northbound and could not avoid a collision with the Hubbard vehicle.
Finney was transported by ambulance to the King's Daughters' Hospital in Madison where he was pronounced deceased.
Hubbard was also transported by ambulance to King's Daughter's Hospital and then taken by Lifeline helicopter to The University of Cincinnati Hospital. She is in serious, but stable condition.
Police say they believe both drivers were wearing their seatbelts and drugs and/or alcohol are not believed to be a contributing factor in the crash. They do say that improper passing and traveling at a high rate of speed contributed to the crash.
Trooper Garrett was assisted at the scene by the Ripley County Sheriff's Department, Jefferson County Sheriff's Department, Ripley County EMS, King's Daughters' Hospital EMS, Versailles Fire and Rescue along with Affordable Todd's Wrecker Service.
Editor's note: Another crash occurred over the weekend west of Holton. Both the Holton and Versailles fire departments responded, along with Ripley County EMS and sheriff deputies. Information on that crash was not available due to the computer system at the sheriff's department being down at press time.