Post 173 junior shooters open with win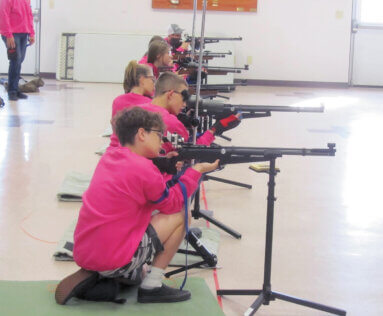 SUBMITTED PHOTO
The Versailles American Legion Post 173 junior shooting team has a fifth-straight state championship on its mind for the 2022-2023 campaign as the squad opened its season in winning fashion this past Saturday, defeating Jasper in a dual match in Friendship.

Both teams were also joined by the Southern Indiana Sharpshooters who competed but only fielded a team score in the Precision category. Versailles won the Sporter category with a team score of 985-19 while Jasper was runner-up with a 798-6.

Versailles's quartet of Chris Couch, Anna Block, Lilly Guerra and Phillip Baumgartner led the way on Saturday which included Couch finishing with an overall individual score of 267-5 to take top honors in the match. He was also second in the Prone category at 95-4, first in the Kneeling category at 89-1 and first in the Standing category at 83. Baumgartner was third overall with a 243-7 which included a first place in the Prone at 95-5 and second in the kneeling at 85-2.
Guerra scored a 77-1 in the Standing shoot and placed second and Block was third in the Prone shoot with a 93-4. Chase Spicer also shot for Post 173 and finished with an overall score of 185.

Versailles will once again call Friendship its home this year for all weekly practices and home matches. The team is scheduled to compete in several statewide and regional shoots throughout the next few months.