Post #173 Junior Shooters place fourth in national competition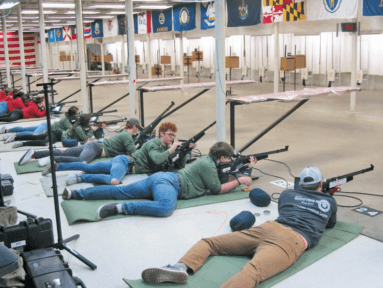 SUBMITTED PHOTO
A handful of youth shooting national championships take place all across the country and are sponsored by varying organizations, but the Versailles American Legion Post #173 Junior Shooting Team can now say its name has been stamped at one of those competitions.
The junior shooters placed fourth this past weekend at the 2021 Junior Air Rifle National Championship in Griffin, GA. It was the team's first taste of the national scene.

"We got one day of practice and had two days of shooting for score," Post #173 coach Jerry Hewitt said of the weekend. "We had our six seniors compete in the match and four shooters count towards your scoring. All six of our seniors received invitations to shoot and they did. You have to earn an invitation. A big thank you to everyone who has supported this team and helped finance our trip."

Post #173 finished the two-day event with a score of 4233-113 and just missed third place by 10 points. The team of Nation Ford A won the national title with 4476-168 while the Clover team was runner-up with a 4355-134. Nation Ford B was third with a 4243-113.
Versailles sat in fifth place after day one with a score of 2104-58, but responded with an improved score of 2129-55 on day two.

Richie Block, Tanner Franklin, Trenton Franklin, Maggie Holt, Mollie Holt and Joe Cairns represented the team for the weekend with Block seeing individual success at the national level. The senior finished among the top eight in the entire field and participated in a national shootoff for top individual honors. He finished eighth with a score of 1089-35.

The group overall received a multitude of compliments from teams and coaches from all across the country that competed. Many were surprised by the success of a small town team that was still in its infancy and practices on Monday evenings. The team also had the chance to tour the sights prior to competing and was able to visit the Museum of Aviation and the Robins Air Force Base.

Both Hewitt and fellow coach Steve Scoggins expressed their gratitude for the many businesses and individuals that aided the team's trip alongside Versailles American Legion Post #173.

The following individuals, businesses and organizations were thanked by the coaches for their help: Becky Eaton, Chris Richmond, Brian Rees, Ryan Holcomb, Doug and Hope Schwanholt, Larry Armbrecht, Gail Deathdrage, Phil Mann, SFC Daniel Bryant Lawson, Glenn and Brenda Steele, Sara Bettis, Ken Brock, Marilyn Hance, Melinda Hunger, Jacki Jones, Precision Style Boutique LLC, Halcomb Home Center, Inc., Pollard's Bowl and Lounge Inc., Southeastern Water Systems LLC, Stratton-Karstetter Funeral Home, Friendship State Bank, Hardy Insurance, Schmaltz Construction LLC, Flagpole Liquors, Southeastern Indiana REMC, Meisberger and associates, Pat's Bulk Food, Versailles Lion's Club and Civista Bank.

Post #173 competes next month in a local virtual meet and begins preparing for March's CMP Virtual Championship.
Editor's Note: It is interesting to note that on this team there are two sets of twins – the Franklin boys and Holt girls.