Post #173 shooters claim state title!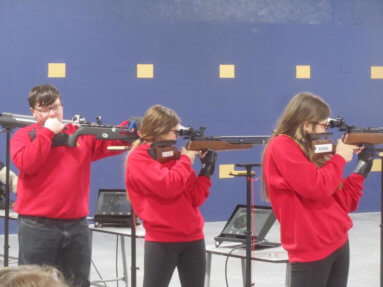 SUBMITTED PHOTO
This is no repeat article and yes the headline is awfully familiar. But once again the Versailles Post #173 Junior Shooting Team is reminding competitors all across Indiana that they are still the best as the team captured the Indiana State Rifle and Pistol Association State Championship this month in Fort Wayne.

The championship is the fifth this season for Post #173 which includes two other state titles through various shooting organizations. Throughout the past three seasons, the team has hoisted close to 10 state championships, a number that quite frankly cannot be matched by any other sport.

Up in Fort Wayne for the state shoot, Versailles came out a winner with a score of 2041.5, besting runner-up Carroll who finished with a 1988.9 score. Dwenger out of Fort Wayne was third with a 1961.5 and Bellmont alongside Culver Academy rounded out the top five with scores of 1939.6 and 1856.1 respectively. 12 teams total competed in the state match as part of the Sporter category. Post #173 was the only representative from the southern half of Indiana.

"I don't think Coach Steve (Scoggins) and I could be more proud of what these young shooters have accomplished this year," coach Jerry Hewitt said of the group. "This is their fifth different championship this year in what everyone thought would be a rebuilding year."

Inside individual action, three Versailles shooters found themselves in the top 10 overall, led by Chris Couch who was the overall state runner-up with a total score of 527.1. Lilly Guerra was fourth with a 515 and Gabe Block picked up a sixth place finish as he shot a 510.4. The team's fourth qualifying shooter, Anna Block, finished her day with a 489 and was 15th out of a total 53 participants.

Phillip Baumgartner competed as well and was runner-up in the prone position category which also saw Guerra finish sixth in the same shoot. Couch was a winner in the standing position shoot while Guerra was third and Anna Block placed fourth. Gabe Block was a third place finisher in the kneeling portion of the day.

Even state champions have to see a spot in its season where an event will serve as a measuring stick and that rings true for Post #173 this week. The team will venture to Camp Perry, Ohio beginning on Thursday to compete in the CMP Northeast Regional, a spot where they found success a year ago. The event will go through Saturday afternoon.