Post #173 shooters compete at regional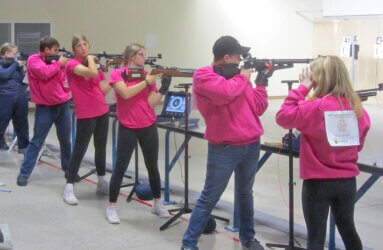 Submitted Photo
The Versailles American Legion Post #173 Junior Shooting team once again earned itself a trip to the Camp Perry National Regional match and came away in good spirits after a weekend against quality competition.

It was yet another appearance for the junior shooters at the National Guard training facility in Northern Ohio. Versailles punched its ticket after competing in various competitions throughout the winter which included winning another CMP State Championship.
Camp Perry served as one of three national regional sites with two others being held in Alabama and Utah. In Ohio, Versailles came away finishing 17th out of 22 teams in that regional field. Their overall score put them 45th out of 64 teams across the country, solidifying themselves as a national contender despite boasting a small roster that practices just one night a week from October through March due to the constraints of being a small town team in a rural area.

The Versailles team was also able to take in several sightseeing adventures during the weekend, making the trip a memorable one inside and outside the facility. Coaches Jerry Hewitt and Steve Scoggins would like to thank all those in the community who donated towards the trip along with those who have supported the group throughout its shooting season.

Versailles has rounded out another stellar season in the junior shooting ranks. In just the last two years, Post #173 has won six state championship matches and has now been to the National Regional in both seasons.