Prosecution team sworn in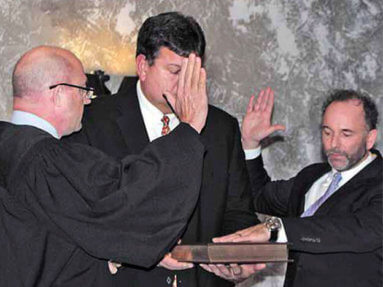 Wanda English Burnett photo
In front of close friends, professionals and family, Ric Hertel took the oath of office on Sunday, December 30 in front of over 100 people, who gathered at Izzy's Restaurant to wish him well as he enters his 21st year as Ripley County Prosecutor. Chief Deputy Prosecutor Shane Tucker and his family, along with Deputy Prosecutor Ryan Marshall were also at the event to be sworn in.
Hertel took a few minutes to thank those in the crowd, saying the people of Ripley County have supported him, helped with campaigns, parades, worked the polls, etc. over the years. "But, tonight is not about politics," he noted, adding, "It's about friendships. I'm here because of you."
The event was a big moment for the prosecutor as he took the solemn oath to once again serve the people of Ripley County to the best of his ability. He candidly noted that sometimes he has to ask others for help, for advice, and doesn't have all the answers. But, he's willing to put in the work to find out how he can get justice as often as possible for those who have been victimized by various crimes.
The prosecutor also admitted that he has had plenty of sleepless nights before trials, as he would mull through the thousands of pieces of paperwork that goes with each one. He says he's seen humanity at its worst, and yet, the people gathered in the room are the reason he wants to keep seeking the position to help others. "I have the ability to change things," he noted.
The job is not always easy, but from his CrossFit friends in the early morning, high school friends, college roommates, state police detectives and officers across the county, and his prosecutorial team, to his loving family, and many others, Hertel says it's all been worth it. He assured those in the room he will continue to fight for justice. "I won't be complacent…the fire is still burning."
Hertel's mentor and friend, Superior Court I Judge Bob Freese from Hendricks County was there to do the honors of swearing in the prosecutor, along with Chief Deputy Prosecutor Shane Tucker and Deputy Prosecutor Ryan Marshall. He has known Hertel for many years and the two have a great history of leaning and learning from each other.
Judge Freese is originally from Batesville, so he has many friends in that community. He praised the work of Hertel, saying he saw first hand the character of the prosecutor before he even went to law school. "He's steady, he's not afraid to tackle the big things," he noted.
Hertel said he knows the power of the office he holds. He also knows that with that kind of power, great responsibility is required. He pledged to be responsible for his actions, and true to his character to follow the rules and do his job to the best of his ability for the next four years.