Prosecutor says officers were justified in shooting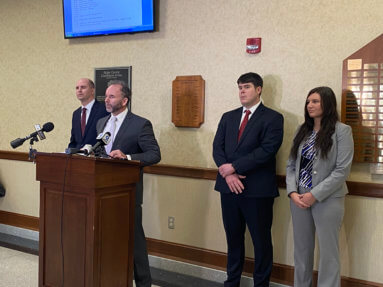 WANDA ENGLISH BURNETT PHOTO
A press conference was held Friday morning with Prosecutor Ric Hertel outlining his findings on the officer involved shooting of Joshua Ebinger. A link was also provided to the media to view a portion of the video cam from the officer's camera that was on that day. "A man lost his life here and we can't change that," Hertel noted, saying the situation was hard on all fronts. He talked about domestic violence, which was a clear-cut factor in this case.

The tragic trail of events unfolded on October 10, 2021, when Ripley County Emergency Dispatch received a call concerning a domestic disturbance at a residence in Sunman. The female caller, Serena Mozingo, told Dispatch that her boyfriend, Ebinger, was also in the home and she had an active protective order against him.

Police responded to the home at 8052 East County Road North where Mozingo was talking to Dispatch saying Ebinger had a gun. She said he was possibly suicidal and knew she was calling 911 and continued to hold the gun. During the call, Ebinger was heard saying the "system" was responsible for his behavior and that "they better make sure they kill me…or I'm gonna kill one of them." He knew the police were on the way and said, "I want them to come here…I'm ready for them."

In the "Factual Summary" released by the prosecutor, "despite multiple pleas by both Mozingo and Dispatch, Ebinger refused to disarm and deescalate.

Officers involved in the shooting were Master Trooper Ben Bastin, a 25-year veteran officer with the Indiana State Police and Deputy AJ Smith with the Ripley County Sheriff's Office. Also responding to the scene were Versailles Marshal Joe Mann and Ripley County Sheriff Deputy Rob Bradley.

The "Factual Summary" outlined that the police followed proper procedure in a situation such as this. Both Trp. Bastin and Dep. Smith carried their AR-15 patrol rifles with Dep. Bradley having a shotgun. It was noted that Marshal Mann volunteered to only carry his handgun in the event that he could attempt to physically subdue Ebinger and resolute the situation before it escalated to the place it did.

The officers commanded Ebinger to come out and surrender, but as Marshal Mann approached the door, Ebinger exited through an open doorway in the attached garage with a semiautomatic pistol in his hand. He began pointing the gun in various directions telling Mann "come on do it" and "you want it". Ebinger then pointed the gun directly at Trp. Bastin. Even though the gunman was still aggressive, the officers tried various ways of getting him to surrender, sometimes boldly commanding him, and at other times, almost pleading with him.

"Ebinger continued to point his handgun at Trooper Bastin as Marshal Mann moved forward to physically subdue Ebinger. Marshal Mann was within a few feet of Ebinger while trying to talk to him. Deputies Bradley and Smith took positions near the corner of the residence, with Smith taking cover behind the engine compartment of the same SUV where Bastin was positioned. However, Ebinger then aimed his gun at Deputies Smith and Bradley. As Ebinger's gun moved towards the direction of Deputy Smith and Deputy Bradley, both Trp. Bastin and Dep. Smith opened fire, each firing multiple rounds at Ebinger. Deputy Bradley and Marshal Mann did not fire as they could not safely do so, given their relative positions and choice of weapons," noted the Summary.

The prosecutor went over the Indiana law and self-defense. The Summary read in part, "The right to self-defense applies to everyone, including police officers…Regarding the officers' personal right to self-defense, the State has determined these officers had probable cause to believe that deadly force was necessary to either prevent serious bodily injury to a person or the commission of a forcibly felony."

As is done in any situation of this type, police from another area were called in to do an investigation. Captain Matt Busick with the Indiana State Police – Sellersburg Post, revealed that Ebinger had been convicted of battering Mozingo in the past, was currently on probation for that offense, along with violating a previous court order preventing him from having firearms.

In an interview with Mozingo, police said she admitted that Ebinger had been staying with her – even though the no-contact order was in place. She said the couple had gone to a restaurant the night before the fatal incident, and had consumed alcohol. She told police she fell asleep on a mattress on the floor and was awakened by hearing a gun being shot. She said Ebinger had shot the gun and was mad because he had found messages on her phone between herself and another man. Police say Ebinger likely stood near the foot of her mattress and fired rounds into the wall above her head as she slept.

Mozingo told police that Ebinger walked out of the residence that morning with the gun in his hands, with his hands up and was immediately shot by police. However, the body camera worn by Trp. Bastin told another story, disproving her account.

Multiple notes were found in the residence by officers from Ebinger to Mozingo with his last wishes enscribed.

A full autopsy revealed that Ebinger had twice the legal limit of alcohol in his system at the time he died.

The Summary concluded by saying, "The officers' use of force was objectively reasonable in light of all known facts. The evidence supports two separate legal justification defenses that deadly force was appropriate in this instance.