Pumpkin fun is had despite 'no' show!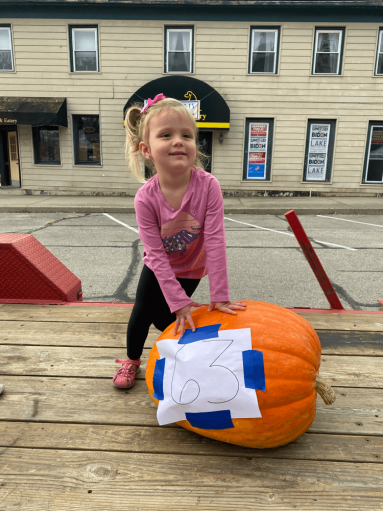 WANDA ENGLISH BURNETT PHOTO
There were pumpkins aplenty on the square at Versailles Saturday morning despite the Versailles Lions Club's decree there would be no pumpkin show this year due to COVID-19!

People were just happy to be out and about and the weather cooperated perfectly with their mood. The Versailles MainStreet Farmer's Market invited the Versailles Lions Club to set up a booth and bring three flatbeds of pumpkins onto the square. The pumpkins were weighed ahead of time at Gilpin's Monuments and then rolled in for spectators to enjoy. The largest pumpkin at the "no" show was 949 pounds and the smallest displayed was 63 pounds. There was a total of 4,723 pounds of pumpkins altogether between three families.

People were excited to see the pumpkins and the growers were thankful to be able to show their talent. After all, the growers began in April planning for the event they never dreamed would be canceled.

The Darrell Franklin family brought in three big ones: 425 lbs., 423 lbs., and 445 lbs. The Alan Welch family brought in five big pumpkins: 502 lbs., 436 lbs., 324 lbs., 251 lbs., and 66 lbs. The Stevens family had the largest pumpkin at the event coming in at 949 lbs., the next largest at 839 lbs., and 63lbs.

The day was made sweeter by the smells and sights from the market, and the deals people were giving. People could be seen clutching their packages, smiling and visiting with each other.

On Friday night, the South Ripley High School seniors held a parade through town, with their vehicles decorated, and sometimes themselves. The Versailles Lions Club handed out "no" show t-shirts for the 2020 non-event!

Editor's note: Watch for coverage of the senior parade in Thursday's paper, along with other pumpkin or fall events that took place over the weekend.