Pumpkins galore at Osgood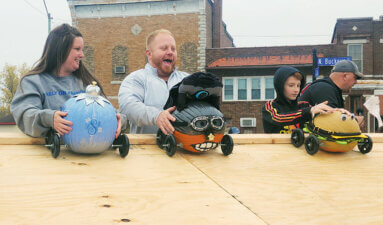 AMY DAVIDSON PHOTO
There was a great turnout this weekend for the 3rd Annual Osgood Pumpkin Race and the Freeman Spooktacular event. To start off the day many volunteers helped assemble the tires and axles on the pumpkins for the race. There were 47 sponsors this year, and a total of 41 participated in the race. All the pumpkins were decorated with great creativity. O&M Street in Osgood was filled with community support and cheering on the racers. Anjali Fong Photography and Done Right Diesel Parts were the winners of the Pumpkin Race. Best decorated in the race went to: First Place, The Osgood Grub Company with Tom Boy; Second Place, Mane lll Salon; and Third Place Done Right Diesel Parts with Mario.
The winners of the races donated their winnings to the Children's Outreach Program fundraiser which was a great display of 'giving back' to the community. It was a fun time for everyone, and the proceeds raised will benefit local children with the Children's Outreach Program.
The Freeman Center was another great hit for the community. Despite the weather it didn't stop everyone from coming out to the bounce houses, and games outside the Freeman Center. They also had entertainment for the whole family inside for the day. They offered everything from candy, popcorn and pizza to movies, coloring and decorating for the Halloween celebration. Screams and laughter throughout the day of families and friends came from the Haunted House set up in the center. It was a great weekend showing support of new businesses and giving back to the community!!