Racers run and walk the town of Versailles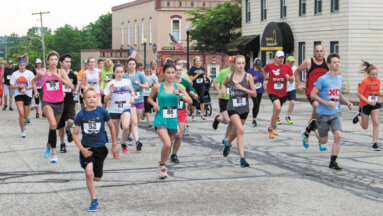 Jared Rogers Photo
The Ripley County Chamber of Commerce hosted their 26th annual 5K on Saturday morning, June 22. Over 50 runners and walkers raced through town, paced by Versailles Deputy Eddie Rodriguez in his squad car. The rain held off and overcast skies made for prime running conditions.
The overall winner was Nick Zigan of Versailles, who finished the 3.1 mile race in 20:16. Nick's dad, Dave Zigan placed second overall with a time of 20:22. Lily Pinckley of Oldenburg placed third overall, and first for women, with a time of 20:26.
Among walkers, Ginger Peters of Osgood won with a time of 38:39. Owen Menchhofer of Holton placed second overall, and first among men, with a time of 42:53.