Racing adds to Roell's arsenal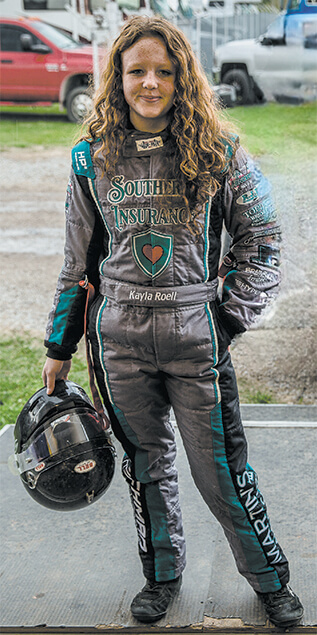 SUBMITTED PHOTO
If you've paid attention to the sports section over the last couple of years, the name Kayla Roell more than likely rings a bell.
Just two years ago she captured her third ISAW State Wrestling Championship as a Milan eighth grader and one year later became a dominant force for the Indians' high school wrestling program, qualifying for the IHSAA Regional and becoming the first female to ever win an individual title at the Warrior Classic in Scottsburg. But it turns out that grappling on the mat isn't the only talent that Roell possesses.
The soon-to-be Milan sophomore, who also plays soccer at the school, just so happens to also be quite the force out on the dirt inside the world of racing. For Roell, it's a sport that has been a longtime love and one she's dedicated most of her life to.
"At age four I decided I wanted to race," Roell said of her early inspirations. "My dad raced go-karts and I wanted to be just like him. We went to a race at Lincoln Park Speedway, walked through the pits and got some advice from some different guys. Next thing you know I'm out on the dirt racing."
The daughter of Scott and Christine Roell, Kayla's career took off right after the visit to Lincoln Park and her go-kart career spanned over 500 races before 2019 saw her venture into automobile racing as part of the sport's broad sprint car series. Still racing on the dirt, her talents have not only allowed her to race all over the midwest and into the southern half of the country, but also allowed her to continue a journey of breaking down barriers as a female athlete in what is commonly labeled as a man's sport.

She's done it in wrestling so why not racing too? In 2021 she became the first female to win a main race as part of the USAC D2 Thunder Midget Racing Series and this past year saw her become the first female to win a heat race as part of the Midwest Sprint Car Series. Roell has raced 12 times so far in 2023 which includes yet another accolade, being the first female driver to enter a race in the United States Automobile Company Sprint Car Series.
"It means a lot," Roell noted of her groundbreaking accomplishments. "I know there are girls out there scared to compete against the guys and I want to be an inspiration for them. I want them to know that there is no need to feel little or down. It's so important for them to push through, be strong and fearless no matter what."
Roell has won races in a go-kart and has racked up multiple victories inside a lightning sprint car but more goals and walls to tear down still are out there for her. While her two younger brothers are just beginning racing careers in go-karts, she has no intentions of taking her foot off the gas pedal as her career only continues to gain some major speed.

"I'm going to go as far as my ability will take me," Roell noted. "I've been out there with some well-known drivers like Kyle Larson and Justin Grant and I've been in some big time races. I want to be the first female to win a USAC Sprint race and just really continue to go out and be an inspiration."

It's been some time since Roell has been featured inside Ripley County but local racing fans can catch her and several other area talents coming up in just a couple of weeks.
Automobile racing is coming to the Ripley County Fairgrounds on Thursday, July 27 and the 7 p.m. event will not only see Roell out on the dirt, but also showcase other local racers such as Travis Butte, Cordell Moore, Billie Moore, Gage Clark and Elijah Konkle along with many other Tri-State drivers. Featured races include Lawrenceburg Pure Stocks, D2 Midget Racing, Non-Wing Lightning Sprints Combined and Hornets.

Two area teams from earlier in the year will be honored at the fairgrounds that night. McDonalds will be onsite for a special ceremony to honor both the 2022-2023 Jac-Cen-Del girls basketball team and the 2023 Milan softball team after the Lady Eagles marched to the Class A Final Four this winter and the Lady Indians turned in a 20-plus win season that concluded with a conference championship.
Local country music artist Rachel Holt will be performing as part of her summer circuit that only continues to add to her budding career.
"I'm excited for the event," said Roell. "It's going to be fun to go out and race in front of so many in the community including the little ones and classmates. I really encourage everyone to come out and enjoy the evening."