Raider baseball stuns No. 9 Shiners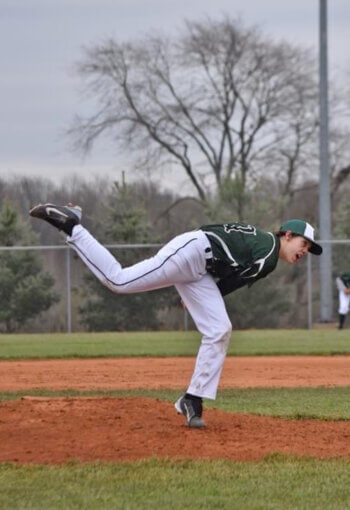 PHOTO COURTESY OF SR BASEBALL
South Ripley baseball pulled off quite the upset in Ohio River Valley Conference action on Wednesday night, knocking off Class A No. 9 Rising Sun 6-5.

The win was the first in the ORVC for South Ripley, knocking off a Shiner team that had entered unbeaten in the conference standings and was sitting in first place. Wednesday also represented just the second loss of the year for Rising Sun (5-2, 4-1 ORVC).

A back-and-forth battle ultimately came down to the top of the seventh inning. Trailing 6-3, Rising Sun had runners on first and second and the go-ahead run at the plate doubled to score both on base and trim the deficit down to 6-5. Brady Ruble, who was pitching in relief for South Ripley, overcame the hit and slammed the door shut soon after. A strikeout for out No. 2 was followed with Ruble forcing a ground ball into play that was scooped up and fielded cleanly for a third out to seal the deal.

Ruble's relief role followed up the best outing of the season for junior Braxton Wilson who got his third win of the season for the Raiders. Wilson pitched six and one-thirds innings, giving up just an earned run on one hit with five strikeouts. Ruble would be credited with the save.

Ryan Gorrell and Landon Adams each hit an RBI single for South Ripley and Trent Smith reached base on three different occasions and recorded a stolen base. Jayden McDaniel, who made his first career start at the varsity level, was 1-for-2 with a single, sacrifice bunt, two runs and stolen base.

Brady Works had a hit, three stolen bases and two RBI for Rising Sun while also scoring a run. Dylan Martin pitched five innings for the Shiners and was hit with the loss, giving up five runs on three hits with five strikeouts and three walks.

South Ripley was unable to continue on Thursday, falling 13-3 at New Washington. The Raiders opened with two runs in the first inning but could not muster up much offense the rest of the way as the Mustangs took the lead soon after.

Gorrell and Trevor Castner each hit an RBI single to provide South Ripley with two of its three runs. Junior Landon Adams took to the mound and was dealt the loss, giving up seven runs in three and two-thirds innings.

South Ripley (4-5, 1-2 ORVC) saw last Friday's game against Jac-Cen-Del postponed due to rain in the area. The Raiders were at ORVC foe Shawe Memorial on Monday and are scheduled to host Greensburg tonight.