Raider boys blitz Twisters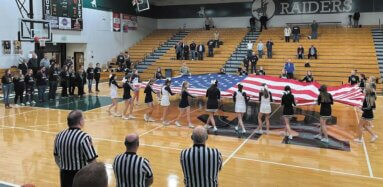 PHOTO BY BRENDA STRIMPLE
Still left with a sour taste in its mouth from a three-point loss to Batesville in the Ripley County Tournament championship game, South Ripley boys basketball took out the frustration on its next foe, making quick work of Oldenburg Academy on Tuesday night in a 63-25 win at home.

The win is the fourth for the Raiders in their last five games and brings them back to within a game of the .500 mark. Oldenburg, who defeated Shawe Memorial 61-47 last Friday night, has now dropped two-straight contests. The Twisters fell to North Decatur 66-34 on Saturday.

South Ripley was never challenged on Tuesday as part of Military Appreciation Night for the two teams. The Raiders got out to a 22-4 lead in the opening quarter and used a 16-10 spurt to close out the first half as the margin shot up to 38-14. Oldenburg's offense sputtered even more in the final two quarters as the 35-point mercy rule was eventually in effect later in the second half.

The Twisters were held to 11 second half points while South Ripley poured on 25 more points, closing out a lopsided evening.
Cole Henry nearly outscored Oldenburg all by himself and the Raider sophomore posted 23 points to lead all scorers with 15 of those points coming in the third quarter. Henry, who also finished with four made 3-pointers in the game, scored his other eight points in the first quarter. Classmate Blaine Ward followed, knocking down two triples en route to nine points while Chancie Volz and Gavin Binion hit for eight points apiece.

Will Tunny added five points off the Raider bench with Ethan Johnson and Mason McNew each scoring three points. Logan Bradley and Bryson Sipples followed with two points apiece.

Oldenburg was led by Jacob Cornelius with 10 points and Jacob Hoff followed with six points. Twister scoring was rounded out by five points from Jacob Stenger and two points apiece by Isaiah Waggoner and Henry Wanstrath.

South Ripley (6-7) celebrates Homecoming on Saturday night as the Raiders play host to Switzerland County in an Ohio River Valley Conference game. Oldenburg (4-7) goes to South Dearborn tonight as they continue a six-game road trip.