Raider boys run past Switz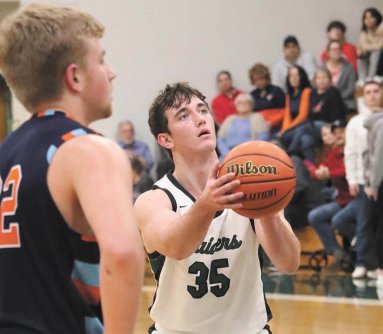 PHOTO BY LORI SAMPLES
South Ripley is back at the .500 mark after a second-straight win saw the Raiders defeat Switzerland County 50-30 on Saturday in a home Ohio River Valley Conference boys basketball game.

The game was a part of Homecoming Night at South Ripley. For the Raiders, it also served as their first ORVC game that counted towards the conference standings. There are still five games left to be played inside the team's final nine games of the regular season.

Four 3-pointers by the green and white propelled them to an early 17-7 run and the Raiders never looked back after the first quarter. 16 more points in the second frame added up to a 33-17 halftime advantage and South Ripley outscored Switzerland County 17-13 in the second half to get the final margin up to 20 points.

Getting the job done for South Ripley was its five starters who tallied up all 50 points scored in the game. Sophomores Blaine Ward and Cole Henry each had a team-high 13 points with Henry doing his damage throughout and Ward scoring his point total in just the second and third quarters. Logan Bradley had a season-high 10 points, Gavin Binion added eight points and Chancie Volz knocked down two 3-pointers for six points.

Switzerland County (5-9, 0-2 ORVC) was once again without star sophomore Cam Craig who came back from a lengthy foot injury on Friday night but reinjured the same foot late in the fourth quarter in a loss against Southwestern (Hanover). The Pacers were led by 16 points from Jacob Williams but no other Pacer scored more than four points.
Aiden Griffith and Canaan Johnson had four points apiece while Trace Johnson and Cooper Todd each scored three points.

South Ripley (7-7, 1-0 ORVC) is back in action on Friday night at home against Shawe Memorial in a conference matchup.