Raider girls win, boys 2nd at SW Invite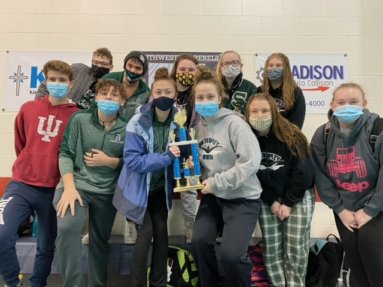 SUBMITTED PHOTO
South Ripley won its first girls championship of the season while the boys picked up a runner-up finish as part of the Red Anderson Invitational meet at Southwestern (Hanover) on Saturday.

The girls tied for the meet championship with Scottsburg as the two teams shared top honors with 60 points apiece. Southwestern finished runner-up with 53 points while Rising Sun sat in third with 49 points. Switzerland County was fourth with 41 points and Henryville rounded out the standings at 22 points.

The Lady Raiders had a pair of runner-up finishes in relay events. Emma Morris, Sophie Guenther, Darcie Diem and Olivia Kavanaugh were second in the 400 freestyle relay in 4:38.11 and also finished second in the 200 freestyle relay in 2:02.36. Diem picked up an individual second place in the 100 freestyle in 1:02.78 and Kavanaugh was runner-up in the 50 freestyle in 29.54 seconds.

Kavanaugh finished third in the 100 breaststroke in 1:31.79 and Guenther was third in the 100 freestyle in 1:08.73. Diem placed third in the 50 freestyle in a time of 29.65 seconds.
On the boys side, South Ripley was a close second to champion Henryville who scored 50 points to Ripley's 42 points. The second place finish was enough to give the green and white the combined invitational championship. Switzerland County was third with 28 points and Southwestern placed fourth at 26 points. Scottsburg's 15 points and Rising Sun's two points rounded out the boys standings.

Thimo Loos, Leo Aldini, Evan Eaglin and Pedro de la Fuentes won the 200 medley relay in 2:22.74 and also had a runner-up finish in the 200 freestyle relay in a time of 2:08.87. Eaglin finished second in the 100 backstroke in 1:13.93 and was third in the 200 individual medley in 2:40.23.

South Ripley competes in a boys event at Lawrenceburg on Thursday against the Tigers, Milan, Switzerland County and South Dearborn. The Raiders are fully back in action on Saturday in Vevay against Switzerland County, Scottsburg, Oldenburg Academy and Charlestown.