Raider runners make debut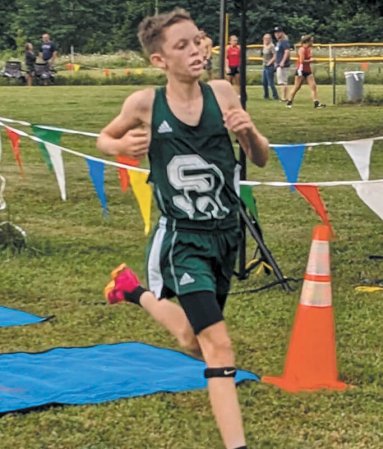 PHOTO COURTESY OF SR CROSS COUNTRY
Mother Nature reared its ugly head on Saturday morning, but not before South Ripley's boys cross country team opened up its season at the Moores Hill Invitational.
The invitational was canceled after the boys race that consisted of South Ripley, South Dearborn, Austin, South Decatur and Shawe Memorial. Thunderstorms in the area prevented the girls portion of the day from being held.
Austin won the boys invitational with 19 points while South Ripley was second with 45 points and South Dearborn placed third at 73 points. South Decatur and Shawe did not have enough runners to field a complete scoring team. Austin's Brayden Konkler was the individual winner, coming across the finish line in a time of 17:17.10.
South Ripley freshman Mason Bascom came up big in his high school debut, placing third overall in 18:43.40 and senior Carson Fisk placed 10th in a time of 19:55.30. Teammate Luke Bradley was 15th at 20:28 and the duo of Evan Eaglin and Jordan Davis were 19th and 20th respectively in times of 21:25.40 and 21:27.60. Another Raider freshman in Blake Swinney was 25th at 23:52.40 and David Rutherford ran 28th in 24:13.40.
The Raiders finished out with freshman Carter Yelton in 31st place at 26:22.70 and sophomore Logan Prince was 34th in 30:00.20.
South Ripley is scheduled to have a few days off from competition and returns to action on August 24 in a four-way meet that also includes Jac-Cen-Del, Milan and South Decatur.